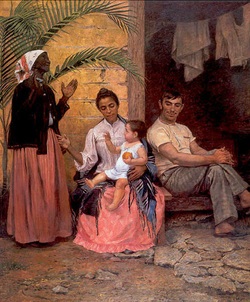 Whitening (Branqueamento)

Racial whitening (
branqueamento
) is an ideology that was widely accepted in Brazil between 1889 and 1914, as the solution to the "Negro problem" and to 'improve the race' towards a supposed ideal of whiteness.
In the aftermath of the official abolition of slavery in 1888, Brazil's white elite were concerned with the country's large non-white population who were perceived as less sophisticated and civilised than white Europeans. The mixed raced and black population were regarded as hinderance to the country's development and evolution as a First-World nation.
[1]
A conscious effort was made by the white ruling elite in Brazil to de-Africanise Brazil by encouraging the immigration of white Europeans in the late nineteenth and eaely twentieth centuries. The Brazilian government subsidised the relocation of the European immigrants, where most of them settled in southern Brazil. A large number of the Europeans that immigrated were the destitute of Europe and not the skilled labourers Brazil's government envisioned. The European immigrants were soon followed by 'white' Arab and Asian immigrants who were given land whilst the recently manumitted mixed raced and black Brazilians were left in an impoverished condition. The government's national policy of the mass immigration of Europeans to Brazil in the late nineteenth and early twentieth centuries is referred to as the whitening (
branqueamento
) process in order to dilute the black blood of the country.
The term (
branqueamento
)
is rooted in Latin America and is used more or less synonymous with racial whitening.
Branqueamento
can be considered in both a symbolic and biological sense. Symbolically, br
anqueamento
represents an ideology that emerged from legacies of European colonialism, which caters to white dominance in social hierarchies. Biologically, b
ranqueamento
is the process of whitening by marrying a lighter-skinned individual in order to produce lighter-skinned offspring.
---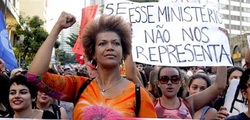 The Return of the White Male Elite in Brazil
Afro-Brazilians are in a precarious political position falling between a support of Dilma Rousseff's social inclusion policies and backing the impeachment of her government against alleged misuse of public funds
Brazil's first female president, Dilma Rousseff, was suspended on 12th May for 180 days in the country's first impeachment in 24 years. Interim President Michel Temer's all-white, all-male cabinet fails to represent the 52 per cent of the population who are female or the 51 per cent who are of African descent. Where do women and Afro-Brazilians stand with President Rousseff's impeachment?
Click
here
to read the full article at The Platform
---
"People are no longer scared of identifying themselves or insecure about saying: "I am black and I am beautiful."" – Elio Ferreira de Araujo