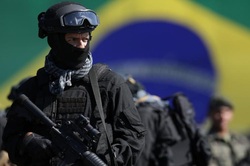 Brazil police kill six people a day - NGO
Brazilian police have killed more than 11,000 people over the past five years, averaging about six killings a day, a group that monitors violence says.
The Brazilian Forum on Public Safety said law enforcement agents in the US, by comparison, had killed a similar number over the past 30 years.
The report by the Sao Paulo-based body accused Brazilian police of making "abusive use of lethal force".
The study said Rio de Janeiro state had the highest per capita rate of killing.
Some 416 people were killed in the state in 2013, according to the report quoted by the Associated Press news agency.
The study also said 50,806 people had been killed in homicides in Brazil last year - an average of about one person every 10 minutes.
The vast majority of the victims were black and more than half were in their late teens or twenties, the report said.
Source:
BBC News
---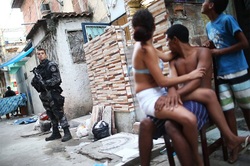 Brazil police 'killed hundreds' in Rio - Amnesty
Campaign group Amnesty International says Brazil's military police have been responsible for more than 1,500 deaths in the city of Rio de Janeiro in the last five years.
Amnesty says it has found evidence that police killings were often illegal, with officers shooting suspects who had surrendered or had been wounded.
There has been no response so far from Brazil's military police.
Police unions earlier said the number of officers killed was also very high.
In Rio de Janeiro alone, 114 police were killed in 2014, according to the civilian police union Sindpol.
Police officers have in the past denied being "trigger happy", saying they act in self defence when they come under fire from drug dealers in Rio's sprawling favelas.
'
In a report published
a year before Rio is due to host the 2016 Olympic Games, Amnesty said police were decimating a significant part of a generation of poor, young, black men.
According to statistics released by Amnesty, nearly 16% of the total homicides registered in the city in the last five years took place at the hands of on-duty police officers.
In 2012 more than 50% of homicide victims were aged between 15 and 29, and 77% of them were black, the figures suggest.
Amnesty also said that incidents of police killings were rarely investigated and those responsible did not often face justice.
But the prosecutor's office in Rio de Janeiro state told BBC Brasil that 587 police officers were accused and brought to justice between 2010 and 2015.
Atila Roque, director at Amnesty International Brazil, said the country's strategy to tackle its drugs and violence problem was "backfiring miserably and leaving behind a trail of suffering and devastation".
The pressure group says military police across Rio de Janeiro have regularly used unnecessary and excessive force during security operations in the city's poor neighbourhoods.
Maria de Fatima Silva's son was killed in a police raid in Rio's Pavao-Pavaozinho favela in April 2014.
The case of Douglas Rafael da Silva Pereira, a professional dancer,
triggered clashes between the police and residents
outraged by his death.
It is still being investigated but Ms Silva fears his case will eventually get shelved, so she has started her own private investigation.
She told BBC Brasil's Luis Kawaguti that witnesses were afraid to testify after allegedly being threatened.
She said support from campaign groups had given her the courage to fight for justice for her son.
Source:
BBC News
---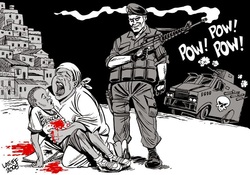 Young, black and living in terror of police
Brazil has, in absolute numbers, the highest number of homicides in the world - some 60,000 murders a year. But thousands of those killings are carried out by the police, with almost no accountability whatsoever. That their victims are largely young black men from poor areas is met with indifference by many. Years of violence and a history of racism have produced negative stereotypes that stand in the way of justice. The security forces are getting away with the murder of thousands of young black men.
Source:
Amnesty International
---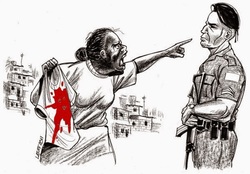 Brazil: Police killed 645 people in Rio de Janeiro state in 2015

The Brazilian state of Rio de Janeiro may have promised improvements in public security in preparation for next month's Olympic Games, but it has not done enough to address extrajudicial executions by police, who killed 645 people in Rio in 2015.
According to a report published today (7 July) by Human Rights Watch (HRW), more than 8,000 people were killed by police in the last decade, in a shocking disregard for international standards and Brazilian law.
"This is a chronic problem in Rio and the numbers are shocking. The fact that they have killed 8,000 people in a decade – it's just hard to find another example anywhere else," César Muñoz, author of the report and Brazil senior researcher with the Americas division at HRW, told
IBTimes UK
from Rio.
Police in Rio face a serious threat of violence from heavily armed gangs, and nearly all killings are reported as legitimate acts of self-defence. But the report alleges that many others are actually extrajudicial killings which officers routinely try to cover up.
One-fifth of all homicides in the city of Rio last year were police killings. According to Rio state Attorney General Marfan Martins Vieira, a large number of the "shootouts" reported by police were in fact "simulated" by officers to cover up extrajudicial killings.
"Police shoot at unarmed people. They shoot people in the back as they are fleeing. They execute people who have been detained with a bullet to the head," Muñoz said in his report.
To put these numbers in perspective, for each officer that died on duty in Rio in 2015, police killed 24 people – double the rate of South Africa, and triple that of the United States.
HRW: almost 75% of all victims were black menHRW found that 75% of all those killed by police were black and 98% were men.
While the victims were believed to be from poor backgrounds, Muñoz said it is difficult to confirm how many people are actually killed in the
favelas
because "records that the civil police keep on the killings are very sloppy".
The favelas – low-income neighbourhoods – are home to almost 1.5 million people or around 23-24% of the population of Rio city. Officers interviewed attributed the excessive use of lethal force to a pervasive "culture of combat" and corruption within the military police ranks.
A military police officer recounted an incident in which he and other officers set an ambush for suspected gang members, gunned them down when they fled from other officers, before planting guns on the victims as they lay dead and dying in the street.
In 2009, HRW first exposed 35 cases in which there was credible evidence that officers sought to cover up unlawful killings. However, the organisation now says it has evidence of at least 64 of these cases – in which a total of 116 people died including at least 24 children.
Only eight of these cases went to trial – four of which ended with convictions of police officers involved.
Source:
IBTimes
---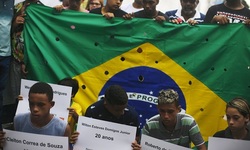 Brazil: Rio's Olympic legacy shattered with no let-up in killings by police
The legacy of the Rio 2016 Olympics has been shattered with at least eight people killed in police operations in the city during the Games and peaceful protests heavily repressed, Amnesty International said.
"Brazil has lost the most important medal at play during Rio 2016: the chance to become a champion on human rights," said Atila Roque, Executive Director at Amnesty International Brazil.
"The Brazilian authorities missed a golden opportunity to follow on their promises to implement public security policies to make Rio a safe city for all. The only way to undo some of many wrongs that took place during the Games is to ensure all killings and other human rights violations by the police are effectively investigated and that those responsible are brought to justice."
Rise in killings by policeIn 2016, police killings in Rio increased month on month as the city prepared to welcome the world.
According to the Institute for Public Security of the State of Rio de Janeiro, police in the city killed 35 people in April 2016, 40 in May and 49 in June – an average of more than one every single day.
Violent police operations took place throughout the Games (5-21 August) in several areas of Rio de Janeiro, including Acari, Cidade de Deus, Borel, Manguinhos, Alemão, Maré, Del Castilho and Cantagalo. These killed at least eight people (three at Del Castilho, four in Maré and one in Cantagalo). The death toll could rise – information on fatalities has yet to be confirmed in two other favelas, Acari and Manguinhos.
People who live in those areas have also reported other human rights violations such as home invasions, direct threats and physical and verbal aggressions by the police.
Brazil's "war on drugs" and heavily armed approach to the security operations has also been putting police at risk. At least two police officers were killed during the first 10 days of the Games.
In the first week of the Olympic Games (5-12 August) 59 armed shootouts were registered in the metropolitan region of Rio de Janeiro, a scary average of 8.4 per day (almost double the previous week, which saw 32 shootouts – a daily average of 4.5). In the same period, at least 14 people were killed and another 32 were injured due to armed violence, according to data collected by Cross-Fire, an app launched by Amnesty International in July to track gun violence in the favelas.
Repression of protestsProtesters have been harshly repressed by the police, both inside and outside sports arenas. Peaceful public demonstrations that took place in Rio de Janeiro on 5 and 12 August were met with police violence, including the use of less lethal weapons such as tear gas and stun grenades; several people were detained. Several others were removed from competition areas for holding banners or wearing T-shirts with messages of protest, a violation of their right to freedom of expression.
In São Paulo, police heavily repressed a demonstration on 5 August, resulting in more than 100 detentions, including at least 15 minors.
"We ended the Olympic Games with even more militarized public security policies, focused on a very selective repression, excessive use of force and combat-like police operations in favelas. The outcome has been clear – a rising death toll and other human rights violations of the residents, especially young black men," said Atila Roque.
"Once again, the legacy of a major sporting event in Brazil has been tainted by police killings and abuses against peaceful protesters. The International Olympic Committee and other sport organizing bodies must not allow these events to be held at the expense of people's human rights."
Source:
Amnesty International
---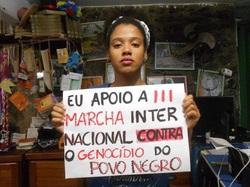 According to study, every 23 minutes, a black youth is murdered in Brazil
Brazil 'Genocide' of Black Youth Kills 1 Every 23 Minutes
The shocking amount of killings of young Black people in Brazil revealed in a new report shows that Black lives don't matter in the South American country.
The crisis of fatal violence against Afro-descendents in Brazil that sees one Black youth killed every 23 minutes in what some have called an "undeclared civil war," according to a new Senate committee report announced on Monday, is leading experts to raise alarm over a "genocide" suffered by young Black people in the South American country.


The report, carried out over the past year by a Senate commission on youth murder in consultation with victims of violence and their families, counsellors, researchers, lawyers, police, and other representatives, finds that over 23,000 Black youths are killed in the country every year, BBC Brazil reported. That's more than three quarters of the total 50,000 annual youth murders.

According to the commission, some participants in the study referred to the crisis as the de facto "extermination of poor and Black youth."

The report, based on data from the Violence Map compiled by sociologist Julio Jacobo Waiselfisz using official figures, found that the vast majority of victims are men, and that Black men are three times more likely to be killed than white men. Close to half of the 50,000 youth deaths per year are suffered by teenage victims just 16 to 17 years old.

Waiselfisz told BBC Brazil that the homicide rate in the country increased nearly 600 percent between 1980 and 2014. Meanwhile, the rapporteur of the commission, Senator Lindbergh Farias of
suspended President Dilma Rousseff's Workers' Party, told the newspaper that the findings of the new report highlight the "true genocide" against Black youth.
The report aims to respond to "what is considered by many to be a culture of violence based on racism and prejudice" and points to a key role for the state in addressing the crisis through effective policy on issues including drug reform, public security, and policing.

One such suggestion arising from the report is a proposed review of the ability of police to claim that they acted in self-defense in order to justify injuries or deaths. Advocates argue that such a step could help reduce victim blaming and hold perpetrators of
police violence and brutality accountable.
The report also found lesser-educated groups are more vulnerable to violence and that youth who neither go to school nor have jobs are the most likely to face criminalization and get caught up in gang activities. The findings highlight the need for education initiatives and social programming for underprivileged youth, according to the commission.
The results of the study come as an all white male government with a fierce neoliberal austerity agenda has been installed in Brazil after the suspension of Dilma Rousseff, which one prominent Black woman leader dubbed a multi-dimensional coup with race, gender, and class consequences.
The commission's findings on youth murders in Brazil is set to be released in full later this week.
Source:
Telesurtv
---