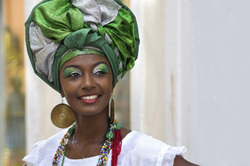 Bahia, Land of Happiness

Bahia is an incredibly colourful and vibrant state full of history and culture with a deep Afro-Brazilian heritage.

Situated in northeastern Brazil, Bahia is a well-known tourist destination due to its carnival, beautiful beaches, music, architecture, and rich African culture.


The people of Bahia are also well known for their warm hospitality and unique joyfulfulness. The people of Bahia are considered to be the happiest people in Brazil and the rest of the world.

The official slogan of Bahiatursa, the state government tourism agency, is Bahia, terra da felicidade! (Bahia, land of happiness!).

The slogan was adopted in the 1980s for its national and international marketing campaign to draw tourists to Bahia.

The slogan itself was a line from the 1938 Ary Barroso/Luis Iglesias samba, Na Baixa do Sapateiro (In the Showmaker's Hollow), in which the narrator loved and lost a beautiful Bahian morena (brown-skinned woman).

Christen A Smith, author of Afro-Paradise says about Bahia;
"There is a paradoxical relationship between Bahia's identity as an exotic, black, jovial playland where anyone, especially tourists, can enjoy black culture and black people, and the state's use of terror against the very black bodies that ostensibly produce this exotic space – Afro-paradise. This gendered, sexualized, and racialized imaginary had made the region a sizzling tourist industry on the one hand, and fuelled the violent repression of black bodies on the other. These two seemingly conflicting actions are not in opposition to one another. Rather, Bahia as a space of black fantasy and Bahia as a space of death for black people are two sides of the same coin." (Smith, Christen A., Afro-Paradise: Blackness, Violence and Performance in Brazil, 2016, Chicago, University of Illinois Press, p. 3)

---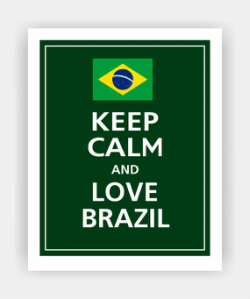 5 Reasons To Visit Salvador, Bahia
When people think about visiting Brazil, usually Rio de Janeiro, Sao Paulo and even Brasilia comes to mind. However, many people are unaware of Brazil's "city of happiness" – Salvador in the state of Bahia.
Fortunately, I have spent some time in a number of Brazilian cities over the past few years, wrote a book about the country and have had many good memories in South America's largest country, but for me, Salvador is by far my favourite Brazilian city. So I wanted to share with you, 5 reasons why you should head out to northeastern Brazil and visit Salvador da Bahia!
1. Afro-Brazilian Music and Culture
Salvador is a very vibrant city, known for its warm hospitality, good weather and African heritage. Approximately 80% of the city's 3 million population are of African descent which is reflected in the city's rich African culture, exuberant celebrations and unadorned beauty that few cities can match in the world.
Salvador's week-long
Carnaval
(Carnival) is unique, with its Afrocentric celebrations, street parties and jubilant friendly partygoers dancing and singing throughout the night. There also a number of Candomblé
[1]
ceremonies,
Axé[2]
shows and capoeira schools across the city which are worth visiting.
[1]
Candomblé is a syncretic religion based on traditional African beliefs.
[2]
Axé
is a popular music genre originating in Salvador, Bahia.
The city is also the home to a number of prominent black empowerment organisations such as
Olodum
and
Ilé Aiyê
. Located in the heart of Pelourinho, the
Olodum
shop is a great place to buy some souvenirs and support the organisation's work.
2. Afro-Brazilian History
If you are a student of history like myself and are interested in African history in particular, then I can't help but stress how important Salvador is to learning about Brazil's African and Islamic heritage.
The Afro-Brazilian museum, Salvador mosque, and Centre of African-Oriental Studies (CEAO), are recommended places to visit if you want to learn more about Brazil's African heritage including the famous slave revolts which took place in 19th century Bahia.
The marvellous architecture of the city's gold-laden churches of the 17th and 18th century which were built by many enslaved Africans are also well worth visiting. When I saw the structure of the churches it was a good reminder of the contribution which Africans have made to Brazil goes beyond music, sports and entertainment.
3. Beaches and Tourist Attractions
Pelourinho is the most popular tourist attraction in Salvador. In the historic centre there are a number of shops, restaurants and the famous
Elevador Lacerda
(Elevator to Upper Town) nearby. It is also the place where Michael Jackson filmed his epic music video,
They Don't Care About Us
.
Aside from the tourist attractions within Salvador, it boasts a gorgeous coastline right outside the city.
Praia do Farol da Barra
is a nice beach to visit near the famous lighthouse with lots of restaurants surrounding the beach. The lighthouse is also a popular romantic spot as couples congregate to watch the sunset if you are looking to find a place to take a love-interest.
4. Hair and Fashion
Salvador is experiencing a growing pride in blackness in recent years. Brazil's long history of anti-black racism is being counteracted by Afro-Brazilians taking it upon themselves to celebrate their natural hair, African features and blackness.
Numerous black women from America and Europe have spoken about the pride they felt whilst in Salvador when seeing so many Afro-Brazilians proudly embracing their African roots. The same can be said for men too, it was encouraging for me as a black man to see so many Afro-Brazilian women wearing their natural hair and showing a keen interest in learning about their African heritage.
Ladies interested in Bahia fashion will also find plenty of places to shop as well as Afro-Brazilian fashion shows, natural hair hairstylists and independent boutiques selling jewellery, clothes and fashion accessories.
5. Brazilian Women
I know this is probably the main reason to visit Brazil for most men. Normally when I am asked by guys, "What is Brazil like?" They really mean; "What are Brazilian women like?!"
So I will be frank with the male readers – there are a ridiculous number of exceptionally beautiful women in Salvador. From dark skinned beauties, to honey complexioned jewels to white dimes, the diversity of beautiful women in Salvador is something else. Stunningly beautiful model-looking women everywhere! To be honest, you probably would not understand or believe me until you visit the city for yourself!
That being said, a lot of what you may have heard about
baiana
(women in Salvador) is exaggerated and
untruths
. From my experience, most Brazilian women are not easy, hypersexual or looking for money. Sadly,
sexual tourism
is rampant in many parts of Salvador, but since "pay for play" is not my thing I am not the best person to tell you about that scene, if that is your sort of thing.
However, if you want a quality woman in Salvador, like anywhere else in the world, you will have to work for it
.
You shouldn't rely on having money or good looks to get women. Confidence and your mouthpiece are your strongest assets in getting women so make sure your conversationalist game is on point. I will say that Shad's book is an excellent read if you want to know more about dating in Brazil from a realistic male perspective.
Final words
Before going to Salvador, I would recommend that you should learn some Portuguese, try to understand Brazilian culture, and immerse yourself with as much information you can about Brazil by reading the articles on the Rio In A Week blog, speak to people who have actually been and watch
documentaries
. The more you are familiar with Brazil, its customs and its people, the more enjoyable time you will have in Brazil's
cidade da felicidade
(city of happiness)!
Guest article by Habeeb Akande featured in
Rio in a Week
---