"Akande has, through this book, demonstrated that black is not only beautiful, but equally intelligent with a deep root in history and ancestral pride. Beyond this, the author has challenged us all to the need to explore further into history in order to establish the concrete contributions of the black people to world civilisations." - Professor Amidu Olalekan Sanni (Lagos State University)
Illuminating the Darkness: Blacks and North Africans in Islam
"Unfortunately, after the death of the Prophet Muhammad (peace be upon him), some of the Muslims began to deviate from Islam's teachings of racial equality. Among other signs of decadence, Arab ethnocentrism and colour prejudice towards blacks sometimes crept into Muslim thinking and literature as Islam spread across the known world. However, there emerged many Muslim writers who attempted to restore the purity of the Islamic faith by producing valuable works citing the virtues and achievements of black Africans.....In response to the negative representations of black people which developed in some Muslim societies in epochs of decline, two approaches emerged. While some writers and poets rose to defend blacks against their detractors in the Muslim community (the resistance model), others accepted the proposed ill-fate of blacks, accepting the negativity of blackness but asserted the moral and intellectual qualities of blacks (the internalising contempt model). This book is based upon the first approach, the resistance model.
Illuminating the Darkness
presents a variety of influential black and African Muslims in history from black Arabs, to black Africans, to 'white' North African Berbers." excerpt from the book.
Illuminating the Darkness
critically addresses the issue of
racial discrimination
and
colour prejudice
in religious history. Tackling common misconceptions, the author seeks to elevate the status of blacks and North Africans in Islam.
The book is divided into two sections: Part l of the book explores the concept of race, 'blackness', slavery, interracial marriage and racism in Islam in the light of the Qur'an, Hadith and early historical sources. Part ll of the book consists of a compilation of short biographies of noble black and North African Muslim men and women in Islamic history including Prophets, Companions of the Prophet and more recent historical figures.
The reader is given a fascinating glimpse into the lives of truly noble characters, from luminous scholars to leaders of whole African civilisations.
Following in the tradition of revered scholars of Islam such as al-Jahiz, Ibn al-Jawzi and al-Suyuti who wrote about this topic, Illuminating the Darkness is structured according to a similar monographic arrangement. Illuminating the Darkness is an opportunity for the English reader to read about the Islamic literary genre on the virtues of blacks and North Africans in Islam.
The book was written by
Habeeb Akande
, a British born Muslim of West African descent. Habeeb is a former student of Al-Azhar University in Cairo, Egypt.
Illuminating the Darkness
is published by
Ta-Ha Publishers
, a leading independent UK book publisher specialising in Islamic books.
"Ignorance of each other is what has made unity impossible in the past. Therefore we need enlightenment. We need more light about each other, Light creates understanding, understanding creates love, love creates patience, and patience creates unity. Once we have more knowledge (light) about each other, we will stop condemning each other and a united front will be brought about....And just because you have colleges and universities doesn't mean you have education." - Malcolm X (El-Hajj Malik El-Shabazz)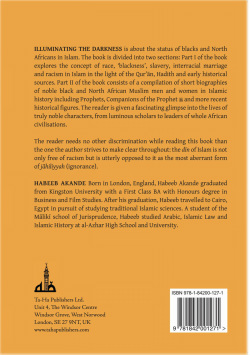 This is a timely work. With black people in the US beginning finally to emerge from the centuries of degrading slavery and the false start of the Civil Rights movement, and with Africa itself increasingly looking to be the continent of the future for Islam, nothing written in this area is without politics. Thus, it has been vital for orientalists, themselves often faithful servants of powerful oligarchic elements in world finance and corporatism, to back-project modern racism and the horrific history of Judaeo-Christian slavery into Islam. But make no mistake about it, this is entirely a political issue, or rather we should say an economic one, since today academia serves politics which in turn serves economics.
One should not, in defending against this attack, resort to a rose-tinted and romantic view of the history of the Muslims, for, unsurprisingly, Muslims have had their tyrants, murderers, adulterers, drunks and thieves just as have others. And Muslim culture itself has suffered tremendous low-points in its cyclical history, a history which comprises an initial exuberant bursting forth, a high point with its cultural achievements, gradual decline into decadence, followed by renewal, a cycle best exemplified by Mad?nah al-Munawwarah itself and often but not exclusively illustrated by the Islam of the West and Africa in particular, of which this book has splendid examples.
The reader needs no other discrimination while reading this book than the one the author strives to make clear throughout: the
d?n
of Islam is not only free of racism but is utterly opposed to it as the most aberrant form of
j?hiliyyah
. This is clear in the Qur'?n, the Sunnah and in the extensive hadith literature. Indeed, Muslims today are themselves surprisingly free of the gross racism that the average American lives with as his quotidian reality, as people like Malcolm X found. Anyone who has travelled in the Middle East cannot have failed to observe the indissoluble mixing of races and colours that has produced the inextricably multi-racial Muslims of today.
Leaving aside this zone of contention, where the book is utterly fascinating is in its vignettes of whole African civilisations and 'empires' – one uses that term advisedly – that rose and sank, and the fierce resistance mounted against colonialism and its imperial projects, and also of the luminous scholars from an often forgotten tradition that sustained that history. This is a revelation of a kind for those who think of Islamic history exclusively in terms of the great Arab 'empires' of the Middle East and their long decline into decadence and and finally extinction. Perhaps few things are more damaging for Muslims' sense of identity today than this spurious identification of Islamic history with that of the Arabs, who are, after all, only a small percentage of the Muslims, neglecting in the process the sultanates of the Far East such as in Nusantara (Indonesia and Malaysia), the Mughals of the Indian Sub-Continent, the numerous Turkic Stans that were absorbed into the USSR, the glorious Osmanli dawlah, and the huge and inadequately explored history of Islamic Africa. The book's extensive bibliography contains enough pointers for the reader to pursue that line of enquiry.
Just as the constituency of modern Muslim societies is clear evidence of the absence of racialism and colourism from Muslim hearts at their best, it contains then a sign for the future. As globalisation increasingly mixes peoples up all over the earth, and once-subject peoples impoverished and often made refugees by it flee to the West whose own subject peoples, its indigenous peoples, are bewildered by the modern age and, misled by the media servants of high oligarchic finance, allow their rage to be deflected from the usurious monetary order of the age onto the flood of the bereft from the once-Third World, it is only Islam that offers a multi-racial brotherhood for the people of the future. Indeed, it is only Islam that has successfully allowed peoples of different races and religions to live together, as in Andalus and the Osmanli dawlah. When the Muslims themselves wake up from their slumbers and emerge from ghettoes, both physical and intellectual, they have foolishly allowed themselves to inhabit, they will have to take their place as generous hosts of humanity in an increasingly alien and predatory age. In having given us resources for that, the author has done us a tremendous service.
Source:
http://networkedblogs.com/AFmP2?a=share
---
Explanation of the sub-title 'Blacks and North Africans in Islam by Habeeb Akande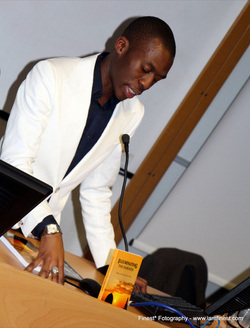 Many people have asked me why did I sub-title my book 'Blacks and North Africans in Islam.'
I hope the following explanation will address any queries people may have regarding the title.
By 'Blacks' I am referring to 'Black Africans,' 'Black Arabs' and those of dark complexion who are considered to be 'Black' if you use the term descriptively (as the early Arabs and ancient people did) instead of ethnically as we generally use the term today.
As for the use of the term 'North Africans' this is to encompass all the people of North Africa from Morocco, Tunisia, Algeria and Libya, who are largely made up of two ethnic groups (Berbers and Coptics) and are generally 'white' in complexion.
At the time of entitling the book I felt 'Blacks, Berbers and Coptics' would be too long to use and some may have thought that I am referring to just the two latter groups instead of the whole region which they are from.
It has also been suggested to me that the book should have been entitled 'Africans in Islam' but as already mentioned, the 'Blacks' covered in my book are not just those of African origin. Additionally I feel that many people could have misinterpreted 'Africans in Islam' to refer to those of dark complexions (Sub-Saharan Africans) alone without giving due recognition to North Africans.
Thus after much deliberation, I felt that 'Blacks and North Africans in Islam' would best incorporate the people mentioned in my book,
Thank you for all your comments and suggestions.
I hope people will now understand the intended meaning behind the book's title.
Habeeb Akande, author of
Illuminating the Darkness : Blacks and North Africans in Islam
---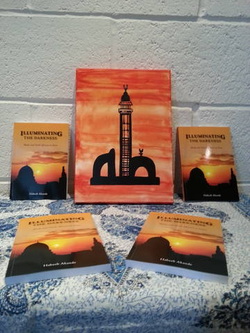 International Retail Outlets of Illuminating the Darkness
Illuminating the Darkness is available to purchase from the following retail outlets around the world.
Nigeria:
Baytuzzenah TBS Outlet, Suite 19, East Pavillion, Tafawa Balewa Square (TBS) Complex, Opposite The High Court, Lagos. Click here
Baytuzzenah Ikeja OutletA2, 2nd Floor, Alausa Shopping Mall, by (LSPC), Obafemi Awolowo Way, Opposite Zenith Bank on Oregun Junction/Obafemi Awolowo Way, Radio Bus stop, Ikeja, Lagos. Click here

Baytuzzenah Ikoyi OutletB3 Falomo Shopping Center, Falomo, Awolowo Road, Ikoyi, Lagos. Click here

Iqra Books, Ilorin Bookstore, 14 Umar Audi Rd., Opp. Access Bank, GRA. Click here

South Africa:
IQRA Agencies, Iqra Agencies, PO Box 34027, Erasmia, Pretoria, 0023, South Africa. Click here
United Kingdom:
IHRC Bookshop & Gallery, 202 Preston Road, Wembley, HA9 8PA. Click here
Looh Press, 56 Lethbridge Close, Leicester, LE1 2EB, UK. Click here
Waterstones, click here
Darussalam, Leyton Business Centre, Unit 17 Etloe Road, Leyton, London, E10 7BT, Click here
Zamzam direct, Click here
Taha Publishers, Unit 4, The Windsor Centre, Windsor Grove, West Norwood, London, SE27 9NT
USA:
Islamic Bookstore, 3840 Bank Street Baltimore MD 21224-2522 USA. Click here

---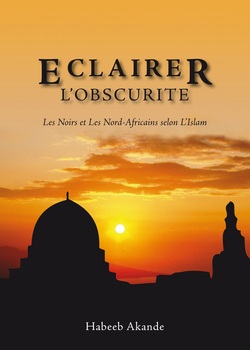 Eclairer l'Obscurité : Les Noirs et Les Nord-Africains selon L'Islam
The French edition of Illuminating the Darkness is translated by Caroline-Meriem Khelifa and will be published by Rabaah Publishers in December 2014.
Click
here
to order your copy from Amazon
---