"People don't realize how a man's whole life can be changed by one book." - Malcolm X (El-Hajj Malik El-Shabazz)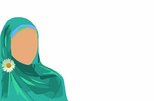 A Taste of Honey Book Review in Hayati Magazine by Papatia Feauxzar
"
Bismillah.
A Taste of Honey
is a well-researched manual for the benefit of the novice and the somewhat knowledgeable on delicate matters. Its Author, Habeeb Akande, is an Historian and an Erotologist.
So what is Erotology? Erotology is the study and description of sexual love and lovemaking. I have to define it because I have been asked before what it meant. Therefore, it's not a well-known word. Early Muslim Erotologists date back to the 9th century according to the book. From Akande's researches, we see that fictitious sex stories aren't new for the people that keep insisting and saying that fiction is
bidat
in Islam. Early Erotologists had stories about sex and included all gender orientations but to not encourage readers in matters strictly forbidden by Sacred Law. It was rather for moral and educational purposes.
In the introduction of the book, Akande quoted Tunisian sociologist Abdelwahab Bouhdiba who said in his book
Sexuality in Islam
, "
It is a pious duty for a good Muslim to help all other members of the Ummah (Muslim community) to become aware of the art of pleasure, to use it consciously, to benefit from it, in a word, to assume their bodies. The techniques of sexual pleasure must be widely spread among the faithful so that the community of Allah does not suffer depression or sorrow. Being a Muslim means knowing how to be happy and cheerful and to know that Allah's purpose is achieved through the beautiful, not through the ugly, through pleasure, not through contrition."
That right there is everything because it helps be me even more confident about the path of work I have chosen myself; raise awareness on sexual education in the ummah. Had I read Akande's book four years ago, I might have not been an anonymous writer after all. So no offense to non-Muslims but the Victorian era is what brought prudery and taboo concepts to Islam. And Habeeb Akande touches on that too. And for the record, haya (modesty) is one thing and prudery is another.
Now, where do I start to tell you about this intriguing book? For a start, it's a tease because impatience gets the best of you because you want to get to the juicy part; 'action' tips. Well, at least for me it was nail-biting. The book is divided in two parts; part one deals with definitions and sexual ethics whilst part two is where it really picks up. While I was tempted to skim and skip some parts, I didn't. When it comes to matters that I'm very interested in, I make sure to read every line of the book for fear to miss an important detail. As a matter of fact, I read this book from cover to cover and wrote notes all over it! It's a thing I picked with my step mother the thorough physician who instilled in me sexual education alhamdullilah.
Habeeb Akande's book was very intriguing from the first page to the last page masha'Allah. I have always known that intimacy was divine based on just the tidbits of Quranic and the Sunnah sources I came across. The Sahabas were not afraid to ask about 'honey'. Honey is perhaps the solution to all problems.
Oh yea, "Indeed, honey
(usaylah)
is sexual intercourse." (Ibn Kathir narrated from prophetic tradition). This is just a tip of the iceberg about this well-wrought researched educational and scholarly book Akande has put together. Akande touches on many issues I bring up in my fiction stories; skin color, faith, love, carnal love, etc.
To continue,
A Taste of Honey
has a lot scriptures,
hadiths,
African proverbs, verses of poems and anecdotes. While many of scriptures weren't new to me, the rest of the groups were refreshing and jaw dropping. Indeed, we could say that some were crude, a little raunchy, and very funny. In other words, the classical Arabs didn't mince their words and it's very exhilarating to read their truthful words. I mean, sometimes you just can't sanitize certain things. You just have to say them how it is and they did!
Drawing from both secular and religious sources, at times
A Taste of Honey
feels like a compilation but where Islamic sources are lacking to prove his point, Habeeb Akande fills in with an expert knowledge in the matter of lovemaking. In my opinion, A Taste of Honey is mainly geared towards men and their need to be better men to women even if it also addresses both men and women in some parts. The book also re-hatched the much discussed subject of who between men and women have the strongest sexual drive. Furthermore, it brings up differences and nuances on certain concepts. For instance, why female pleasure insatiability is different from the actual female sex drive. To get your answer or draw your own conclusions, you will have to read to find out because I personally found some subjects open to discussions.
By now, if anybody thinks that Islam is a prude religion is making a big mistake. The Prophet (
sallallahu aleihi wassalam
), his Sahabas (may Allah be pleased with them), early Arabs, and the U
mmah
across the board were and is a loving and sexually enlightened people. In this light, A Taste of Honey is a must read. A revival is already in motion and we need to keep it up.
To end, sex is not dirty.
Au contraire
, it elevates the soul. Keeping it lovely, simple and enjoyable within
halal
boundaries is the key and what you should take away from
A Taste of Honey
."
Click
here
to read the full review on their website
Papatia Feauxzar
is a published author on Islamic romance for mature readers.
---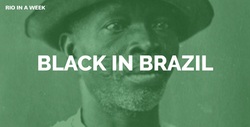 Book Review Illuminating the Blackness
by Shad of
Rio In A Week
Being Black In Brazil
Black In America = Black In Brazil?
What do Black Brazilians and Black Americans have in common?
Can you think of anything?
Nothing?
What about:
Rising above racism and white supremacy
Colorism
Similar histories in the Americas via Africa
Black entrepreneurship
Black Music
World Class athletes
Social movements for better education and opportunities
Natural Hair Movement
The fight against police brutality
Black people in Brazil have a similar story to Blacks in America – with slight differences.
So when author Habeeb Akande sent me a fresh copy of his latest book,
Illuminating The Blackness: Blacks & African Muslims In Brazil
– I was curious and ecstatic to read it.
Most people know nothing about the huge black population in Brazil.
You may hear comments like "Oh they aren't Black, they are Latinos" or "Well, they aren't
really
Black right?".
In Akande's new book, you'll discover a powerful and interesting history about Blacks in Brazil.
Like Habeeb, I've spent significant time over the years connecting with Black Brazilians.
Volunteered at a Black English school.
Spent 4 months living with a Black Brazilian family
Met up with Black Brazilian social activists
Spent time in Black Music clubs
Exchanged English lessons for Portuguese lessons
But why?
It's not by chance.
I actively pursue building relationships with Black Brazilians because it's important to me to connect with people from other countries and cultures.
A quote in Illuminating The Blackness explains it clearly.
Malcolm X encouraged peoples of African descent to identify with oppressed people in the world and connect with their blood brothers in Brazil, Venezuela, Haiti and Cuba. He remarked, "Not one black man is prominent in Brazil. The Negroes there are still at the bottom."
Habeeb explains how every black experience – whether it was in the Americas, Europe, Asia or even Africa – is similar.
During his trips to Brazil, Akande noticed the similarities between Black Cariocas (Black people from Rio de Janeiro) and Yorubas in Nigeria.
He also noticed the racial hierarchy in Brazilian society that a few people sweep under the rug.
Because of this racism, Black Brazilian history – and African Muslim influence in Brazil – has been downplayed.
Later – he visited Salvador and Sao Paulo.
His features and casual attire helped him fit within Brazilian society – particularly in Bahia. In Salvador, Akande writes:
During my visit to Salvador, at times I felt as if I was in Nigeria. Some of the Bahian cuisine and a number of the customs are from West Africa. Many Bahians informed me that they were proud negros/negras (black) and are connected to their African history. Many morenos/morenas, (brown/mixed-race) Brazilians who phenotypically were Europeans – or Asian-looking, even spoke fondness of their African roots.
Akande decided to write
Illuminating The Blackness
because
the current Brazilian educational system doesn't teach the history of Black Brazilians
and Muslims in Brazil.
You should read this book if:
You are interested in modern Black Brazilian culture and history
You are Muslim and would like to learn about the Muslim presence in Brazil
You are interested in the Pro-Black movement in countries besides America
You are a Black traveler who is thinking about visiting Brazil – "What is it like being Black in Brazil?"
You want to learn more about race in Brazil
You support Black authors and Black entrepreneurs
Click
here
to read article at Rio in a Week blog
---
Book Review in The Muslim News newspaper (28th September 2012)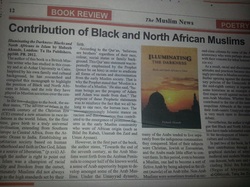 "The author of this book is a British Muslim writer who has studied in this country and at al-Azhar University in Cairo. Inspired by his own family and cultural background, he has researched and compiled this monograph to highlight the position of Black and North Africans in Islam, and the role they have played in Muslim societies over the centuries.
In the Introduction to the book, the author states, "The advent of Islam in the seventh century of the Christian Era (CE) created a new situation in race relations in the world. Islam, for the first time, gave birth to a truly universal civilisation, extending from Southern Europe to Central Africa, from the Atlantic Ocean to India. Establishing an egalitarian society based on human brotherhood and faith in One God, Islam was a source of liberation." (p xvii) Although the author is right to point out that Islam was a champion of racial equality and freedom from the outset, unfortunately Muslims did not always live up to the high standards set by their faith.

According to the Qur'an, 'believers are brothers' regardless of their race, colour, social status or family background. This Qur'anic statement was repeatedly emphasised by the Prophet (peace be on him) in order to eradicate all forms of racism and discrimination from the early Muslim society. That is why the Prophet stated that 'Muslim is a brother of a Muslim.' He also said, "human beings are the progeny of Adam and Adam was made from dust." The purpose of these Prophetic statements was to reinforce the fact that we all belong to one race, the human race. The uncompromisingly Islamic stance on racism and discrimination thus contributed to the emergence of prominent figures in the early Muslim community who were of African origin (such as Bilal ibn Rabah, Usamah ibn Zaid and Umm Ayman).

However, in the first part of the book, the author states, "Towards the end of the seventh century, as the Arab Muslims went forth from the Arabian Peninsula to conquer half of the known world, a sense of Arab superiority began to develop amongst some of the Arab Muslims. Under the Umayyad dynasty, many of the Arabs tended to live separately from the indigenous communities they conquered. Most of their subjects were Christian, Jewish or Zoroastrian, and the Arabs made little effort to convert them. In this period, even to become a Muslim, one had to become a sort of fictive Arab by being adopted as the client (mawla) of an Arab tribe. Non-Arab Muslims were sometimes treated as second-class citizens by some of the Arab aristocracy who were perhaps absorbed with their concern for tribal honour." (p xix-xx)

As a result, racial and discriminatory attitudes and practices became increasingly prevalent in Muslim societies. The Berber uprising against the discriminatory policies of the Umayyads during the mid-eighth century is regarded by some historians as an example of the first major revolt against racism led by non-Arab Muslims. Whether this later contributed to the rise of the more cosmopolitan Abbasids at the expense of their Arab-centric Umayyad opponents is very much open to discussion and debate.

Nevertheless, the author is right to argue that Black and North African Muslims have made substantial contribution to the development of Islamic thought, culture and civilisation.

In part two of the book, he highlights their contributions through short biographical sketches of selected early, medieval and modern Muslims of African descent, both men and women, including Bilal ibn Rabah, Najashi (Negus of Abyssinia), Mariyah al-Qibtiyyah, Tariq ibn Ziyad, Ata ibn Rabah, Sa'id ibn Jubayr, Ibn Battutah, Mansa Musa, Ahmad Baba, Uthman Dan Fodio and Malcolm X.

In conclusion, the author argues, "Islam is uncompromising in its insistence on the equality of all believers before Allah. In the sight of Allah, human differences in society and affluence are irrelevant. Regardless of race, wealth or social status, all human beings are equally capable of attaining salvation in the Hereafter. Allah looks at the hearts and deeds of His creatures and judges them accordingly. Taqwa resides in the heart, and is what distinguishes human beings in Islam…to have taqwa of Allah is to be conscious of Him, to hear Him and to be dutiful towards Him…" (p129)

In the next edition of this book, the title of Ibn Battutah's Rihlah needs to be corrected to Tuhfat al-Nuzzar fi Ghara'ib al-Amsar wa Aja'ib al-Asfar (p116).

This is an interesting and useful book, and it is worth reading. The author also deserves credit for his efforts.

Muhammad Khan M Khan is author of The Muslim 100 (reprinted 2010; Kindle 2011); it has been recently published in Bhasa Indonesia.


---
Book Review by Professor Amidu Sanni, Professor of Arabic and Middle Eastern Studies at Lagos State Univrsity Nigeria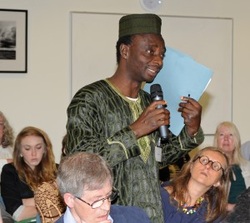 Review by Professor, Amidu Olalekan Sanni (Lagos State University)
Journal:
Journal of Muslim Minority Affairs
Volume 34, Issue 1, January 2014, pages 82-85
Published online: 24 Mar 2014
Excerpt from review,
"By and large Akande's effort has reminded us about the persistence of racial ideologies and tendentious narratives which continue to (mis)inform our understandings of racial identities and alterities, particularly in relation to the black peoples who are often assessed from unfavourable, multiple lenses. In 2007, the 79-year-old geneticist and Nobel laure-ate James D. Watson created a storm when he said that he was "inherently gloomy about the prospect of Africa because the black people are less INTELLIGENT than whites". There is no need for a violent reaction to this kind of specious, senile, and unscientific assumption; if a donkey kicks you and you kick it back, both of you are donkeys, so says an East African proverb. Akande has, through this book, demonstrated that black is not only beautiful, but equally intelligent with a deep root in history and ancestral pride. Beyond this, the author has challenged us all to the need to explore further into history in order to establish the concrete contributions of the black people to world civilisations."
Click the following link to read the full review,
here
or see below to read the full article.
---
Book Review by Malia Bouattia - National Students Union's National Executive Council Black Students Rep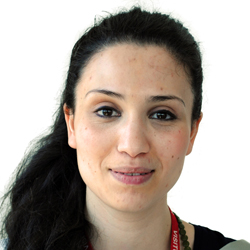 Habeeb Akande's 'Illuminating the Darkness: Blacks and North Africans in Islam' is a rich piece of work which explores the often neglected subject of Race in Islam. The book offers a range of related topics which include ideological understandings of the concept of 'Race'. The historical references to slavery, tribalism and social hierarchy during the period of the Prophet (PBUH) also serve as a window into the development of racism in Arabia and how this was addressed by the Messenger (PBUH).

My journey through the book started during a family road-trip to Normandy, which ironically coincided with what we have always experienced or witnessed during visits to France: racism. It soon became an appropriate but also very enjoyable family read. Though Akande explains that his work does not extend to being a sociological study of "the institutionalised racism within contemporary Muslim societies," it certainly motivated many interesting discussions amongst my family and friends regarding issues of race within our faith community.
More importantly, 'Illuminating the Darkness' introduces us to the numerous and diverse Black warriors, martyrs, scholars, and companions of the Prophet (PBUH), who have all contributed to our history, as well as the important role of Abyssinia throughout the development of Islam. Particularly as an African Muslim woman, I was left empowered by the many biographic references to strong Black women, such as Nigerian-born Nana Asma'u. This inspiring woman, who was very knowledgeable in Islamic sciences, had not only served as a writer and teacher for her community, but also as an activist and advocate for women's social progress and education. Others worth mentioning include Queen Amina Sukhera, a warrior from what is now known as Zaria, and Llala Fadhma N'Soumer, an Algerian Berber who organised and led her fellow Kabyles into battle against French invasion in the late 1800s. The book therefore also successfully includes gender aspects and highlights the contribution made by women of African descent throughout Islamic history. In addition to countering false myths, these references may even serve as reminders for some of the problems faced by our communities, including internalised forms of racism and the sickness of shadism as the measure of a woman's beauty/worth - though these should not be disconnected from the issues of Western-led colonialism, slavery and orientalism historically faced by the Global South from where the majority of the Diasporas originate.

The writer presents an in-depth investigation and understanding of the complex subject that is Race in Islam by also applying the support of credible historical literature which has already delved into the area as well as referencing relevant parts of the Qur'an and numerous Hadith. The quality of this extensive research is evident throughout the book, yet the detail is coherently translated in such a way that the writer avoids isolating even the lay-reader. Akande's modest tone and style give the feeling that the reader is being invited to continue on his journey into a better understanding of Islam's message and the historical events which took place during and after the Prophet's (PBUH) time.

Akande ends his introduction with the hope that Afrophobia and negative representations of blackness are dismantled. In my opinion, this book does much more: it celebrates the extensive and multicultural African and Black contributions to the social and historical development of Islam. Those who read the book will find themselves feeling armed with empowering knowledge and inspired to pursue their own research into the extensive history of Islam and the Prophet's (PBUH) life. 'Illuminating the Darkness: Blacks and North Africans in Islam' is highly recommended as a source of information for all, particularly during this important month of Black History.

---
Book Review by Marilyn Scarlett

"The author makes it clear throughout the book that Black and North Africans Muslims have contributed significantly to the development of Islamic thought, civilisation and culture. At times, I found the book quite a heavy read, but the author deserves much credit for researching this topic thoroughly, thus making it easier to digest." see full review on People with Voices, click
here
---
Customer reviews from Amazon.co.uk

"It's not every day you come across a book that not only informs you but raises the taboo issues society doesn't want to acknowledge.
Habeeb Akande, looks at the documented issues surrounding today's black Muslims with thorough and precious informative research, drawing from what seems his very own life.
The book is an enormously ambitious attempt which contrary's its viewpoints delicately but most crucially backed up factually research. Its narratively fascinating, ingenious and impossible to put down.
He doesn't pinpoint the faulty of any race or creed but merely highlights factors within his own religious setting. Some may find it informative and some will question if the motive is to be quietly and cleverly controversial.
In either case, Illuminating the Darkness, Blacks and North Africans in Islam is a read not to be missed."

---
Black History Month – the taster article towards Illumination by Internchange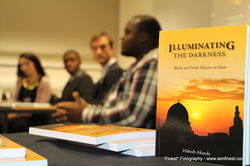 Habeeb Akande's Illuminating darkness tell us else. The successful book covers many forgotten traditions from the time of the Prophet SAS until colonial Africa in a succinct yet informative manner. One of the great benefits of the book is that it shows why Islam is the universal religion and how it demonstrated itself throughout times. The key focus is on the individuals that played a big role in the times African prosperity. One of them is Mansa Musa Raheem ullah.
Click
here
to read the full article.
---