Sexual Harassment at Work
The legal definition of sexual harassment is the "unwanted conduct of a sexual nature which has the purpose or effect of violating someone's dignity, or creating an intimidating, hostile, degrading, humiliating or offensive environment for them." - The Equality Act of 2010 (UK)
Generally Unreported

Sexual harassment at work often goes unreported, as people fear that they may lose their jobs or damage careers if they 'rock the boat'.

Harassment in the UK

Half of British women and a fifth of men have been sexually harassed at work or a place of study, a BBC survey says. Read

more

Female Predators?

Although the majority of victims of sexual harassment are women, some men can also be subjected to sexual harassment by women.
"Sexual harassment at work is always an act of power. The perpetrator is a hierarchical superior of the harassed person,"- Juliana Oliveira
"Often harassment is tolerated or is perpetrated by senior people within an organisation'"
How common is workplace harassment?

​

​A report conducted jointly by the TUC and Everyday Sexism found that 52% of women had experienced some form of sexual harassment at work, nearly a quarter had been touched without invitation, a fifth had experienced a sexual advance. An earlier study by the law firm Slater and Gordon found that 60% of women had experienced inappropriate behaviour and nearly half of respondents had been warned to expect problematic behaviour from a particular person when they arrived.

​

​Read

more

What are the key red flags to look out for?

​According to McGowan, the most common forms of sexual harassment at work include:

Making frequent sexual remarks towards an employee, often waiting until the employee is alone
Repeatedly touching or brushing past an employee
Receiving sexually explicit e-mails
Inquiring about an employee's sex life or about their personal life
Pestering an employee for a date
Suggesting sexual favours or ways of dressing that might help their career

​Source:

The Independent
Sexual harassment usually occurs when men use power to extract sexual favours.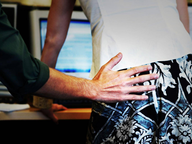 What every young woman should know about sexual harassment at work ​
​
U
ltimately, it shouldn't be your responsibility to avoid being harassed at work, because no-one should be harassing you. But here are some steps you can take to ensure that you're as protected as possible..
Tune into the culture
​There is safety in numbers
Find your women
Trust your gut
​​Read full article
here
---
A third of people working in Westminster has experienced sexual harassment involving the abuse of power. The majority of victims were young men. - 2014 Channel 4 survey
"When I was there, older men would explore their sexuality and be predatory to younger men." - Sexual harassment culture in parliament exposed
What differentiates a compliment from harassment?
In 2016, one male MP caused a furore when he referred to Isabel Hardman, assistant editor of
The Spectator
, as "the totty."
When debating the incident on BBC Radio 4's
Woman's Hour
, Everyday Sexism's Laura Bates explained that the reference was an example of sexual harassment in the work place, whereas former politician Edwina Currie argued that Hardman should have recognised the comment as a compliment.
​
"If somebody called me totty I'd be delighted," she said.
Whilst critics lambasted Currie's argument as archaic, her repeated question of "how can you tell the difference?" between a compliment and harassment clearly demonstrated how some people could misinterpret inappropriate comments and refrain from reporting it by conflating them with compliments.
"As HR professionals our job is to look at each situation on its merits," explains McGowan. "Does it meet the legal test of sexual harassment? It's not just if the behaviour is meant to cause the problem but it's also if it has 'the effect' whether intentional or not."
​
Naturally, some forms are more obvious than others, however, Howell adds that it's important to acknowledge that there are "grey areas" with regards to harassment which leave room for interpretation.
In these instances, she advises people to gauge for themselves what is appropriate vs what is not, explaining that most people have an "internal barometer" that will enable them to make a fair judgement.
"Comments about another's appearance do not form part of a professional conversation and therefore it is expected that we don't engage in them at work until a certain level of personal rapport has been built," she told
The Independent
.
​
​"Unfortunately, some people don't have the emotional intelligence to naturally sense whether rapport exists between themselves and others or what types of behaviour may be welcome or warranted by another individual.
"This means that if someone accuses a colleague of inappropriate comments which may be appropriate in the workplace in another relationship or circumstance, we would generally advise the first step is to ensure the alleged harasser has been told the behaviour is unwelcome."
​Source:
The Independent