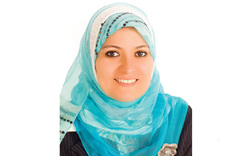 Let's Talk About Sex… Dr. Heba Kotb Paving the Revolutionary Road!
Sexual education and knowledge among Egyptian men and women is close to non-existent based to various cultural and educational factors. Most schools don't have sexual education and if they do it is merely very scientific and not discussed. Most sexual beliefs stem from urban myth passed on through generations through family members or false information passed on by peers. One of the pioneers in educating Egyptians and the Arab world about sexuality is Dr. Heba Kotb, known through many TV shows and appearances as well as being a renowned speaker on many conferences.
"Let's talk about sex", this is the famous quote spelled out by Egypt's first licensed sexual therapist Heba Kotb, who is basing her methods on the teachings of the Quran, which encourages strong marital life with a healthy sexual relationship. We met with Dr. Heba Kotb, squeezing our interview into her very busy schedule, to lay out solutions to questions that cross our minds on regular basis.
Kotb, married with three daughters, studied sexology at Maimonides University, a private school in Florida, and combined it with her own knowledge of her religion. She continued her studies, eventually earning a PHD with her thesis, entitled "Sexuality in Islam".Returning home in 2002 she opened a sexual therapy practice in Cairo. Shortly she took TV talk shows by storm appearing as a guest speaker followed by newspaper columns dealing with sexual problems. Eventually, Kotb got her own TV show "Kalam Kebeer" (Big Talk) on the private Egyptian satellite channel "Al Mehwar" followed by "Kalam Kebeer Gedan" (Very Big Talk) on "Al Hayat" channel. Furthermore, she gives sex education courses for unmarried youth with the consent of their parents, but accepts only married couples in her consulting practice.
"When I started, some of my friends were shocked and found it irritating for a female to talk about sex."
How did your family receive the news of wanting to become a sexologist?
I have to admit that I'm lucky enough that my family showed me supported me with anything I wanted to do in my life my. They were totally aware how much I wanted that goal and my father carried on for my expenses at the U.S. When I started, some of my friends were shocked and found it irritating for a female to talk about sex.
What does your husband feel about your media career?

My husband was my college sweetheart. We have known each other for 23 years now and we are in love since. He knows who I am and he knows my red zone. The red zone for me is my career and he knows that he must step aside and leave any single decision among my career for me and I'm aware of his red zone too, even if I don't approve of some things.
You lectured in Saudi Arabia and Yemen, how was the feedback there?

Well, I expected much worse feedback. Saudi Arabia takes sex as a taboo from a religious point of view unlike Yemen who takes it as a social taboo. I gave four lectures in Saudi Arabia and three lectures in Yemen. I was stunned by the positive feedback I received from Saudi Arabia as I never dreamt of such a positive attitude. I entered the lecture wearing my typical clothes I wear in Egypt and the interactivity was great. To avoid embarrassment people passed their questions on paper and I kept on answering the questions for an hour and a half. Thank God the people there had an urge for knowledge.
"A good and balanced sex life reflects positively on various parts of the life and most importantly creates a good mood."

What is the importance of sexual therapy?

No denial that sex is a great part of a person's life. It affects ones social life, behavior and personality. Having bad sex may lead to everyday arguments of a person with his neighbors or colleagues. If people don't enjoy a healthy sexual life, they turn to be losers in many aspects of life whereas a good and balanced sex life reflects positively on various parts of the life and most importantly creates a good mood.
Does sexual therapy prevent sexual abuse?

Sexual abuse is mainly related to psychological deviation. Basically, sexual therapy is for balanced people, but in that case we use mixed therapy which consists of psychotherapy combined with sexual therapy. But sexual therapy as a whole is for regular people with healthy psychological status, who happen to face sexual problems with their partners.
Who gets better sex, the Middle East or the West?

The same problems are universally found.
Through my exposure to international conferences I found out to my surprise that a person in Boulaq faces the same sexual problems like a person in the US there are basics of sex everyone must follow regardless of the environment.
Like in the Egyptian Novel Chicago, the mother told her daughter, who despises having sex with her husband, that sex is a duty and is vanished soon after the couple have children, how could we get rid of such beliefs?
I hear such things from patients all the time. A very old AUC graduate, 57 years, came to me and told me that her mother used to tell her that sex is an exchange for food and accommodation at her house and her mother was from the high society, but that's culture regardless the socio-economic status. There was no source of science at that time that's why I always tell students to go ahead and have this specialization as I can't treat millions of people. A very old woman came to me and told me that she is a fan of my programs although her sex life ended a long time ago, and she wished she had such media at her time as a lot would have changed. A person at a small village in Naga Hamady watches the program from his small room through his small TV and a lot of information and messages are delivered which could change his life completely. Media is the only way to change these beliefs and media plays a very important role in our society in Egypt.
"But sexual therapy as a whole is for regular people with healthy psychological status, who happen to face sexual problems with their partners."
How could we raise awareness to sexual education at schools?

I came up with a curriculum which was presented in various conferences. It was on sexual education for kindergarten children to educate them on what organs of their bodies are private like to name people who could see the child exposed in order to prevent child molesting and so on. The curriculum aimed also to raise awareness to domestic sexual abuse between the child and the driver, maid, even if someone he likes and feel secure with. Another phase of sexual education was for teenagers to learn about puberty. Children should know everything about their bodies. Some parents think that their children gather sexual information from their friends and they are totally ok with that as most parents are shy to trigger an open discussion with their children which leads to negative results. The curriculum wasn't applied very much in Egypt but it was in the Gulf Region and it's available for anyone who wants to educate it at their schools. We want to guarantee that every single person gets the message. We should raise awareness to sexual education through schools and lectures.
What do you tell your children about sex?

I'm used to an open conversation with my three daughters. I have demonstrative books of human body which I share with them. I speak with them about sex in the simplest way mentioning what is avoided and forbidden to practice preventing premarital sex as it should be in the right track and we could deal with it verbally. Sex education isn't about telling your child how to enjoy sex, but telling them what is right and what's not.
"Some parents think that their children gather sexual information from their friends and they are totally ok with that as most parents are shy to trigger an open discussion with their children which leads to negative results."
Are gynecologists capable of providing sexual advice?

Gynecology and sexology are interconnected in some parts, but gynecologists should be aware of some subjects. Unfortunately, some gynecologists provide false advice and I always say that specialists should interfere in just their own specialization to have credibility. A gynecologist could be aware of some sexual issues, but that doesn't mean he could provide prescription on sexual issues and the same thing applies for the sexual therapist.
Islam stresses on foreplay how is that?

The foreplay issue was mentioned in both the Quran and Hadith. There are two types of foreplay, the solid part is a matter of electricity which means to tackle a certain part of the body of all men or a women. The flexible type is for the individual. The Hadith by prophet Mohamed (pbuH) was left open; he mentioned kissing and verbal communication during sex. In "Al Baqarah" verse in the Quran, the issue of changing the place and timing of sex is advised. I tell people to have sex anywhere and at any time. If people don't have the time and money to travel, they could change the room or the bed; this is very healthy according to sexual boredom.
Who are more obedient in following the instructions you give, husbands or wives?

Husbands are more obedient than wives. The husband is the positive partner and he sees this through his manhood as he worries of not pleasing his wife which affects his manhood, so he abides by the instructions I give.
Could a woman run to you outdoors and ask you for a simple sexual advice, or everything needs counseling and prescription?

Everything needs counseling. I have the right to enjoy my private life outside work. Me and my family have the right to enjoy life after work and when people run to me, I tell them to call me when I'm at work in order to take care of my private life.
Click
here
to read article at source
---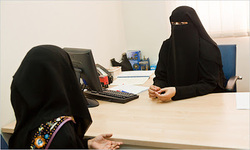 Challenging Sex Taboos, With Help From the Koran

by Robert F. Worth.
The New York Times
/ Middle East / June 6, 2009 The Saturday Profile
WEDAD LOOTAH does not look like a sexual activist. A Muslim and a native Emirati, she wears a full-length black niqab — with only her brown eyes showing through narrow slits — and sprinkles her conversation with quotes from
the Koran
.
Yet she is also the author of what for the Middle East is an amazingly frank new book of erotic advice in which she celebrates the female orgasm, confronts taboo topics like homosexuality and urges Arabs to transcend the backward traditions that limit their sexual happiness.
The book, "Top Secret: Sexual Guidance for Married Couples," is packed with vivid anecdotes from Ms. Lootah's eight years as a marital counselor in Dubai's main courthouse. It became an instant scandal after it was published in Arabic in the Emirates in January, drawing praise from some liberals and death threats from conservatives, who say she is guilty of blasphemy or worse.
Ms. Lootah, a strong-willed and talkative 45-year-old, is one of a small but growing number of Arabs pushing for more openness and education about sex. Unlike earlier generations of women who often couched their criticism in a Western language of female emancipation, Ms. Lootah and her peers are hard to dismiss as outsiders because they tend to be religious Muslims who root their message in the Koran.
Ms. Lootah, for instance, studied Islamic jurisprudence in college, not Western psychology, and her book is studded with religious references. She submitted the text to the Mufti of Dubai before publishing it, and he gave his approval (though he warned her that Arab audiences might not be ready for such a book, especially by a woman).
"People have said I was crazy, that I was straying from Islam, that I should be killed," Ms. Lootah said. "Even my family ask why I must talk about this. I say: 'These problems happen every day and should not be ignored. This is the reality we are living.' "
She is not a liberal by Western standards. One of the themes of her book is the danger of anal sex and homosexuality generally, not because of AIDS but because they are banned by the Koran. But her openness about the issue was itself a shock to many here.
Continue reading the main story
The Saturday Profile
A weekly profile of the individuals who are shaping the world around them.
See More »
In Saudi Arabia and other countries where the genders are rigorously separated, many men have their first sexual experiences with other men, which affects their attitudes toward sex in marriage, Ms. Lootah said.
"Many men who had anal sex with men before marriage want the same thing with their wives, because they don't know anything else," Ms. Lootah said. "This is one reason we need sex education in our schools."
She is also emphatic about the importance of female sexual pleasure, and the inequity of many Arab marriages in that respect. One of the cases that impelled her to write the book, she said, was a 52-year-old client who had grandchildren but had never known sexual pleasure with her husband.
"Finally, she discovered orgasm!" Ms. Lootah said. "Imagine, all that time she did not know."
Another important theme of the book is infidelity. The prevalence of foreign women in Dubai and the ease of e-mail and text-message communication has made cheating easier (and easier to detect), Ms. Lootah said, helping push the divorce rate to 30 percent.
The Gulf's oil-fueled modernization in recent decades has also shattered some old Arab social structures. At the same time, the rise of political Islam has undermined traditional authorities, leaving many Arabs confused about moral issues.
"Before, people lived in one place and the community was like one big family," Ms. Lootah said. "Now, people have spread to different areas, everything's mixed up and traditions have changed."
ONE result is the Family Guidance section in the Dubai Courthouse, which opened in 2001 with Ms. Lootah as its first counselor (there are now six others, all men). Kuwait's government has had a similar social-services wing since the 1990s, and other Persian Gulf countries are following suit. Private psychologists and marriage counselors also exist throughout the Arab world, though they are still rare.
"We're making a lot of progress," said Heba Kotb, who runs an Islam-oriented sex therapy clinic in Cairo, and ran a satellite television talk show on sexual and marital issues from 2006 until 2008. "Ten years ago we were unable to even mention the subject, and now people are getting used to hearing it."
There are still formidable obstacles. In a region where "honor killings" of women who have sex outside marriage remain fairly common, sex education is widely viewed as a portal to sin. Genital cutting of women still takes place in Egypt, though it is now illegal. Arab writers and artists have begun to tackle these subjects.
Thirty years ago the Egyptian director Saleh Abu Seif wrote a screenplay called "Sex School," but the censorship bureau had yet to approve it when he died in 1996. His son was finally allowed to direct a modified version of the film, about a sexually dissatisfied couple who go to see a therapist, and it was released in 2002 under the title "The Ostrich and the Peacock."
Ms. Lootah never expected to become part of this debate. One of nine children born to an illiterate water-seller in Dubai, she married early and taught elementary school for years. Later, she took a job working for an Islamic endowment, where her efforts to introduce education and family-reunion days in prison earned her two government-service awards. When Dubai introduced the Family Guidance section of its courthouse, Dubai's ruler, Sheik Muhammed bin Rashid al-Maktoum, asked her to be the first counselor.
THE family guidance section was established in part to comply with Islamic precepts calling for couples who want a divorce to try to work out their problems first. In practice, it has become an all-purpose therapy destination for people with marital problems.
Ms. Lootah sees about seven cases a day, individuals and couples. Most of them are native Emiratis, but in the multicultural world of Dubai — where about 90 percent of the population is foreign — she has also counseled some Europeans and Asians. As in the criminal courts next door, a translator sits in on the session, and sometimes even offers advice to bridge cultural gaps.
"Some people are amazed I can work with people with only my eyes showing," Ms. Lootah said, with a ripple of laughter. "Maybe it's because of the way I move my hands! But I can tell you that people come here, and they speak very frankly with me."
She reels off stories from her practice in rapid fire: the Emirati military officer whose wife had an affair because he was away from home too much; the woman who thought fellatio was against Islam (not true at all, Ms. Lootah notes); the wife who discovered her husband dressing up as a woman and going out to gay bars. She seems bent on showing that there is a whole world of sexual confusion that would benefit from open discussion.
Publishing the book, she notes, was a difficult choice. Her father supported her, but other family members sometimes wondered why she had to be so public about it all. After it was published a man called her office phone and threatened to kill her. Other threats appeared on the Internet.
She brushes them off, saying she has declined an offer of protection from the government. Besides, she adds, educating the public is worth the risk.
"A few days ago a woman came in and asked me if it is O.K. to kiss the man all over his body," she said. "I told her, 'Read my book!' "
---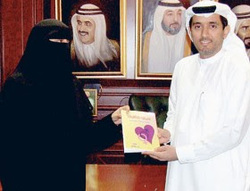 Muslim Arabs open up to sex education

In early 2009, a controversial book appeared in bookstores in the United Arab Emirates. Immediately, it was considered an unusual publication in a largely Muslim society. It was a 221-page book entitled "The Secrets of Sexual Congress Between Married Couples" written by Wedad Lootah, a Dubai Family Court counselor.

The book has caused furor in the UAE. Lootah has received death threats and has been accused of blasphemous content, to the point of being considered an infidel. Lootah's explanations in the book on how the Qur'an and Sharia can be applied to modern-day Muslim couples' sexual lives have been deemed explicit and unacceptable by Muslim fundamentalists.

Sex education is Lootah's difficult profession in the traditional Arab society where the existence of sexologists is confined to specialized television programs that are tailored according to the Islamic religion and alternative magazines such as the Lebanese Jasad which is distributed throughout the Middle East but only through discreet mail to avoid censorship in Muslim countries.

"The Secrets of Sexual Congress Between Married Couples" is the first book on sexuality written by and for Arabs. As expected, it was received with little enthusiasm by Muslim fundamentalists but became a source of relief to the rest of the population.

Through the Family Court of Dubai, Lootah has been more than accustomed to dealing with couples to help them solve their sexual intimacy problems. Part of a small team attached to the institution and tasked to settle matrimonial disputes between spouses, Lootah has been a social worker since 2001.

The institution's purpose is to avoid unnecessary separations in a federation that holds the record for divorces (46%) in the Gulf Cooperation Council which includes UAE, Kuwait, Saudi Arabia, Bahrain, Qatar, and Oman. In 2004 alone, the The Media Line agency reported that 13,000 couples ended their marriage in a population of just three million inhabitants. Since 2005, women have been allowed to file for divorce. The divorce rate has since soared.

According to Lootah, couples would not have ended their union if only they had sufficient sex education.


---
Cultural attitudes have distorted the Islamic faith and led Muslims across the world into a state of sexual denial, believes Imam Alyas Karmani, "The faith actually has a very mature and progressive take on these issues. Islam gave women the right to an orgasm 1400 years ago. A woman has reasonable grounds for divorce if her husband cannot sexually satisfy her,"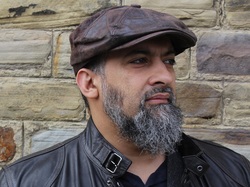 The Muslim Sex Doctor: How Imam Alyas Karmani uses religious texts to counsel a community 'in sexual denial' by Mobeen Azhar
In the front room of his suburban Bradford home sits Imam Alyas Karmani. On the hour, he receives a scheduled Skype call. The woman speaks softly and there's nervousness in her tone. She's calling from Morocco and though she's in her twenties, she says she's afraid of her parents hearing the conversation. "I felt so bad about my habit that I used to cut myself. You have really helped me, Imam. Thank you."
This is one in a series of counselling sessions with "Nadia". For months now, she's been in conversation with the Imam. He reassures her: "Masturbation is not forbidden."
For a BBC radio programme,
The Muslim Sex Doctor
, I spent a week sitting in on the Imam's sexual counselling sessions, meeting and hearing for the first time from the men and women who turn to him for pastoral advice about their sexual concerns or passions. It's a valuable insight into a community that normally just doesn't talk about sex. It is a subject where people growing up amidst both Muslim and Western culture have very different levels of acceptance, and that can leave many who value their faith confused or worried. As a society, we ought to understand this dilemma better, so I have tried to find out why in modern Britain his clients come to get sex advice in a specifically Islamic context. The frankness with which the Imam discusses anything his clients ask him about may be alarming to people who are used to the discussion of sex being explicitly, and often exclusively, linked to procreation. As a result, this Imam has gained an international reputation for applying the Koran and Hadith (accounts of the Prophet Mohammed's life) to the sex lives of Muslims.
The Iman tells me he "grew up in Tooting and the general rule was: don't get seen with a girl and don't talk about sexual feelings. Muslims in Britain and in much of the world are in a state of sexual denial."
Even putting aside his enviable flat-cap collection, Alyas is not an average Imam. He studied psychology at Glasgow University and is working on a PhD in "The Crises of Masculinity and Urban Male Violence". He loves bossa nova jazz but gave away his entire record collection when he discovered a more "orthodox" version of his faith in the late Eighties. Today, at fortysomething, he is as comfortable discussing contemporary culture as he is leading Friday prayers at Bradford's Muhammadia Mosque. It's precisely this ability to tread two cultures with such grace that makes Alyas a boon to many Muslims in Britain who would be reluctant to share the intimate details of their sex lives with most other Imams, with family members or even friends.
Alyas tells me there is a method and a logic to forming his conclusions. "I have studied this area extensively and we know that everything is halal [permitted] unless it is expressly prescribed as haram [forbidden]." It's this method of referencing text that makes the Imam's advice so palatable to his clients, many of whom would not feel comfortable taking it from an exclusively secular source. But the system of Koranic interpretation and, more so, reliance upon Hadith can be dense and complicated.
While there, I meet "Gabriel", a 23-year-old university student who contacted Alyas about masturbation. When I point out that, in my understanding, students masturbating is "pretty normal", Gabriel snaps, "I thought it was 100 per cent haram." He first contacted the Imam after seeing a Hadith that referenced men on the day of judgement with "pregnant hands". He applied this to his own life and began dreading the day he would face God with his hand in prenatal agony. It was only after long conversation with the Imam that the authenticity of such a Hadith was questioned. Alyas concludes the session. "Often, people bring textual proofs that don't have any validity. I know that narration to be something which is unreliable."
As a Muslim born and raised in Britain, I have personal experience of trying to discuss sex with an Imam. I remember being 15 and asking the Imam in my home town of Huddersfield why I had such raging desire and what I could do to control it. I was told to "avoid eating dates and raisins". In my Imam's view, my teenage libido had little to do with my hormones and everything to do with dried fruit. These notions are not explicitly Islamic. They are rooted in South Asian culture. It's believed that nine out of 10 Imams who work in Britain today were born outside of the UK. The result is often a Mosque leadership that struggles to meet the needs of the congregation it serves.
Imam Alyas explains: "I believe 80 per cent of being an Imam is pastoral care and 20 per cent is about leading prayers. Most Imams in Britain have it the other way around. The faith actually has a very mature and progressive take on these issues. Islam gave women the right to an orgasm 1400 years ago. A woman has reasonable grounds for divorce if her husband cannot sexually satisfy her. It is in fact cultural attitudes that have distorted faith notions to [cause people to] feel shame and embarrassment around a fundamental human behaviour."
These cultural notions and the structures that uphold them can sometimes have devastating implications. The Imam has been advising "Mo" for 18 months. He got in touch, initially expressing anxiety over his upcoming wedding night. He said he was unsure if he'd be "able to satisfy his wife". But after just a few a counselling sessions, Mo told the Imam that he had been sexually abused by an older male from the age of 10. This was his formative sexual experience and something that had an impact on the rest of his life.
Increasingly, the Imam is trying to take the discussion about Muslim sex lives to the public space. On my last day with him, I saw him deliver a Friday sermon exploring the "pornification" of society. The subject matter made some of the congregation visibly nervous. This is, after all, a space that is increasingly reserved for the discussion of ideals from Islamic history rather than specific contemporary issues.
"You get it in the neck from the Muslim community, who don't understand what you're doing – who think you're actually trying to undermine Islamic values because they profoundly misunderstand your role – and so they therefore then label you as someone who is immodest. And then I get it in the neck from the other side, because what the other side is basically saying is: why do you persist with Islam? Islam seems to be the problem, all you have to do to it's ditch Islam, you're reinforcing values which are actually creating difficulties and problems for people. And that's a profound misunderstanding of Islam and Muslims and what we want in Britain society, and the fact that we're part of British society. We're trying to come to a balance."
The names of those seeking advice from Imam Alyas Karmani have been changed to protect their identities.
Source:
Independent
---
The Muslim Sex Doctor on BBC Radio 4
The Muslim Sex Doctor captures counselling sessions between clients and an Imam working as a sex therapist, offering a unique insight into British Muslim sex lives.
We'll hear what issues affect the community and how one man is trying to change the way in which sex problems are discussed and remedied.
Psychologist and Imam Alyas Karmani is a man on a mission. He offers a bespoke service dealing with everything from masturbation to the Islamic stance on S and M and discovering the 'joy of Muslim sex'.
Through Imam Alyas's counselling we'll get a valuable insight into a community that normally just doesn't talk about sex. We'll unpack the impact of unspoken desire and through this, develop a new understanding of the Muslim community in modern Britain.
'The Muslim Sex Doctor' was broadcast on BBC Radio 4.
Click
here
to listen to the programme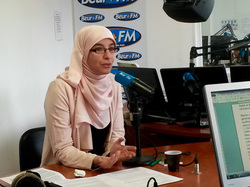 A Muslim sex therapist tells all
by Elizabeth Bryant May 11, 2016
PARIS (RNS) Nadia El Bouga is talking about the long-term scars of female genital mutilation — the women she's treated who cannot enjoy sex, who suffer from medical complications, who may have even forgotten about the painful event that took place when they were as young as 4 or 5.
"As a practicing Muslim, it's a mutilation that doesn't exist in the religious texts," El Bouga says of an ancient tradition that persists among some, mostly African communities, including some Coptic Christians.
"It's a way to control female sexuality, and it's a false belief," she adds, calling on male Muslim leaders to "take a stand."
Elegant in a pink veil and flowing black pants, El Bouga is at the Paris studio of Beur FM, a French radio station where her weekly talk show on sexuality draws audiences from as far as sub-Saharan Africa.
For some of her listeners, female genital mutilation is a taboo topic, a scourge that affects an estimated 200 million women and girls worldwide, including some 60,000 in France. But no subject seems off limits for 39-year-old El Bouga, France's rare and perhaps only veiled Muslim sexologist, who mixes medical facts with a dose of religious reality.
Premature ejaculation, homosexuality, pedophilia and masturbation — all are fair game during El Bouga's radio appearances and in private sessions at her Paris-area clinic.
If she's a long way from becoming a household name — or France's Muslim answer to Dr. Ruth, America's no-nonsense Jewish sex therapist — the midwife and mother of two is challenging conservative Muslim conventions, not to mention stereotypes about Islam.
"Nadia is exceptional," says therapist Latifa Bennari, a Muslim and president of the l'Ange Bleu (Blue Angel), an organization that supports victims of sexual abuse. "Other veiled women don't necessarily have her character, don't have her courage. Unfortunately, in many Muslim families we're still confronted with lots of taboos and things left unsaid."
Mosques and women's associations are soliciting El Bouga to talk about sexuality. So are a growing number of reporters.
"Nadia is always ahead of the curve," says Beur FM journalist Philippe Robichon, who invited El Bouga to co-host the weekly show just over a year ago. "She challenges me all the time, pushing me to take on subjects I think are completely improbable.
"Sometimes I worry how listeners will respond," he adds, "but with Nadia it's completely natural. She calls things like they are, but she always uses professional terms. That's why it works."
El Bouga says she learned about tolerance and the free exchange of ideas from her Moroccan parents, who immigrated to France in the 1970s in search of jobs. Talks with her father, over cups of strong, sweet Moroccan tea, became an after-school ritual.
"He told me how he met my mother; it was a marriage of love, not an arranged marriage," she says. "He told me about my ancestors, about philosophy. He asked my opinion about world events. I never had a sexual education at home, technically speaking; it was an emotional and spiritual education."
Like many French teens, El Bouga got her sexual education from school, friends and magazines. Years later, working as a midwife in a northeastern French hospital, she discovered more troubling dimensions of sexuality, confronting problems that were not in her textbooks.
So she went back to university, to specialize in sexology. In 2014, El Bouga opened a private practice in Garges-lès-Gonesse, north of Paris.
Most of her patients are fellow Muslims, who tracked her down by "the Arab telephone," or word-of-mouth, El Bouga says with a laugh.
"They think I'll be able to offer them a religious interpretation of their problems," she adds. "I tell them we share the same religion, but everything depends on how they live their religion and their traditions."
She turns down men who want to make appointments for their wives: "The women have to take responsibility," she says. And while most of her clients are indeed women, a surprising number of men turn up at her office.
"People think a Muslim man would have a hard time talking about sexuality to a female therapist," she says, "but in fact, many prefer a woman, because they don't feel they'll be judged on their lack of masculinity or impotence."
No topic is off-limits, she says, including homosexuality, considered a sin among practicing Muslims.
"I tell them I'm not there to judge them, to tell them what is authorized (under Islam) or not," El Bouga says. "The idea is to relieve their suffering. It's up to the patient to decide whether to make his or her coming out."
She uses Islamic texts sparingly, where it's "useful," she says — to counter, for example, assumptions that female genital mutilation is authorized under Islam.
El Bouga's own relationship with Islam evolved while she was growing up, in a family that was not terribly religious. "They did Ramadan and daily prayers," she says, "but that was all."
In her late teens, she began reading the works of 11th-century Sunni theologian and philosopher Al-Ghazali. At 22, she adopted the veil.
"My father was opposed at the beginning," she says. "He didn't understand and he was worried I'd have problems with my studies."
The real problems came a decade later, while she was specializing in sexology at Paris XIII University, outside the capital. She was the only veiled woman in her class, and one professor categorically refused to teach her.
"She said it was either her or me," El Bouga says. "She was only saying aloud what others were thinking."
While France bars girls from wearing headscarves in public schools, the ban does not carry over to universities.
Some Muslims are affronted by her frank take on sexuality, although so far, El Bouga says, she's had no direct criticism from Muslim leaders.
"I've had negative reactions on my website and Facebook page, but not many," she adds. "Some men think sexology is some form of prostitution, and suggest I must be depraved."
Others believe she is bridging divides in a country where the veil has become a political lightning rod.
"I'm trying to change mentalities among North African French, but also prejudices that remain among my French colleagues," El Bouga says, recalling the questions that dogged her in university.
"Colleagues would ask me if there's something they missed, and I would say, 'You missed nothing,'" she adds. "You can be a sexologist and a practicing Muslim. It's not contradictory."
(Elizabeth Bryant is an RNS correspondent based in Paris)
Click
here to read article at source
---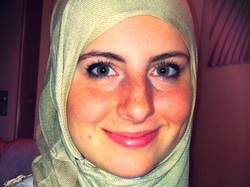 Being a Muslim Sexologist Is a Tough Gig By Ian Moore
October 25, 2013 on
Vice
Islam isn't a belief system known for its liberal stance on sexuality. Though the Prophet Muhammad said in the Qur'an that men should treat their wives to some foreplay before putting it in, the scholars who've interpreted his words have generally been less cool with making sex fun – many going so far as to say that oral sex is completely forbidden.
Lately, however, there have been signs that the Muslim world is becoming at least a teensy bit more open-minded when it comes to genitalia. In 2007, Heba Kotb, the Arab world's first Muslim sexologist, started answering questions about doin' it on her Egyptian TV show. Others have followed in Kotb's footsteps, and now Muslims in Denmark have their own sexologist to turn to in Fatima El-Hajj. The 24-year-old devout Muslim says that since opening her practice in Copenhagen a couple of months ago, she's been overwhelmed with curious clients, while also facing prejudice from both xenophobic Danish bigots and fundamentalist Muslims. I emailed her to find out more about the Muslim sex-advice biz.
VICE: When did you become interested in Islam and sexuality?
Fatima El-Hajj:
Having been born into a Muslim family, I knew extremely little about sex and its place within my religion. It was taboo and people didn't really talk about it, but the more I looked into it, the clearer it became just how negative and distorted many Muslims' views on sex were. I couldn't understand why my own religion had such a depressing view of it. It's a human right for each and every person to enjoy making love – why shouldn't Muslims be part of that, too?
As an adult, I became fascinated with spirituality, and three years ago, I suddenly found myself at a tantra festival, and all sorts of impressions overwhelmed me. I remember feeling cheated in regard to all these facets of sex that had been kept secret from me. I became a full-time tantra practitioner, and at the same time was studying literature about sexuality within Islam and discovered a wealth of information and detail I hadn't had the slightest notion even existed.
Like what?

For instance, keeping one's partner erotically satisfied is a great way to win blessings. It's also written that a man may never ejaculate before the woman has achieved orgasm. Both partners are expected to smell good, as well as keep properly manicured nails and well-groomed pubic hair. This all helps to ensure a healthy sexual appetite.
So is there a conspiracy of sexually lazy dudes keeping all this under wraps?

There are many Muslims who view sex as something wrong and shameful, whereas Islam views it as something beautiful.
What sort of questions do these misinterpretations lead to in Muslims?

I've had people ask me if too much sex is unhealthy. One woman even asked me if it was common to experience vaginal discharge after sex, because her aunt had told her it was. Young Muslims tend to go to their elders to ask such questions, and unfortunately, the answers are rarely reliable. Intercourse before marriage is forbidden, so quite often parents tend to stigmatize [sex]. The only problem is that this stigma tends to stick around later in life.
Click
here
to see the article at Vice
---