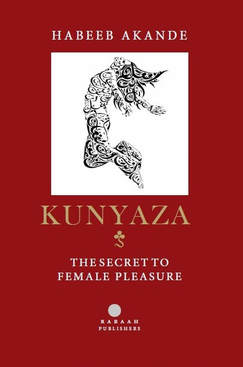 Kunyaza - Africa's Secret to Female Pleasure
by Habeeb Akande
What is Kunyaza?
Kunyaza
is a traditional sensual technique that triggers female ejaculation and multiple orgasms in women during heterosexual encounters. The sexual technique originates from Rwanda, east-central Africa, but is also commonly practised in Uganda and Kenya, where it is known as
kachabali
.
Benefits of Kunyaza:
· effective sexual technique from east-central Africa for heterosexual couples,
· facilitates female ejaculation,
· brings women to climax in less than 5 minutes,
· helps men last longer in the bedroom,
· enhances female pleasure,
· treatment for female orgasmic disorder, · foreplay with labia minora elongation, · psychology of female pleasure, · reputation for triggering multiple orgasms in women.The Origin of the ​Kunyaza Technique
The ancestral lovemaking technique dates back to the Third Dynasty rule of the Rwandan monarchy, when the queen demanded a royal guard to make love to her whilst the king was away on a military campaign. According to the folk tradition, the guard acquiesced and became so anxious about the possible repercussions that his body trembled uncontrollably. I
nstead of penetrating the queen, the guard rhythmically rubbed his manhood rubbed up and down against her labia and clitoris — a technique that became known as kunyaza. The expulsion of liquid or "water" the motion provoked from the queen was called kunyara. From there, the kunyaza tradition was born, but has evolved slightly over time across various East and Central African countries.
Women Pouring Rivers (Kunyara)
In Rwanda and parts of western Uganda, "pouring rivers", also known as female ejaculation and "squirting" is not only considered a regular part of sexual activity, but it's often interpreted as a crucial milestone in a couple's sex life.
Although the Rwanda-Rundi word
kunyaza
is derived from the verb
kunyara
"to urinate" the expulsion of large quantities of vaginal fluid which emanates during
kunyaza
is not actually urine, as the liquid has differing properties. Some researchers have concluded that the expelled liquid during
kunyaza
is female ejaculation, also known as "squirting."
In Sylvia Tamale's article
Eroticism: sensuality and "women's secrets" among the Baganda: A critical analysis
(2005), she reports that during a workshop on sexuality, an erotic teacher, specialising in traditional Ugandan sex practices, told other participants the following:
"I myself was truly ignorant about female ejaculation until I met my current lover. It works better with the Banyankore kachabali technique. If your lover knows what he's doing, you'll pour rivers and experience multiple orgasms at the same time."
The ability of Rwandan women to expel copious volumes of liquid — more than three litres according to some estimates — during
kunyaza
, stems from another ancient tradition called
gukuna
.
Labia Elongation (Gukuna) to Heighten Female Pleasure
Gukuna is an ancient custom where the lips of a female's inner labia are gently pulled or stretched so that they become elongated. It helps to heighten a woman's sexual sensitivity, according Rwandan customs. Women who practise gukuna are said to be able to expel more fluid easier during clitoral stimulation compared to women who have not practised labia elongation. However, the custom is not as widely practised
as more urban Rwandans dismiss the tradition
as a backward practice reserved for rural dwellers.
For
gukuna
advocates, a woman performing
gukuna
is not an automatic pass to realise female ejaculation. A man must also do his part. This means making the woman feel comfortable, engaging in foreplay and demonstrating sound
kunyaza
technique. Even then, it's not guaranteed. "It depends on your feeling, your connection," explains a Rwandan woman in an
article
about the Rwandan sexual practice.
Gukuna
is also known as "cutting the broom" in Rwanda and Uganda.
Rwandan radio host and sex therapist Vestine Dusabe is known throughout the country and beyond for her work to promote
gukuna
.
"We talk about gukuna because we do not want our culture to disappear…. My two daughters I did it for them when they were 10 years old,"
she explains.
Men frustrated by their wives' lack of
gukuna
are among her most frequent callers, according to Dusabe.
Whilst many women in East and Central Africa seek to elongate their labia, it is ironic that a growing number of women in Western countries are cutting their labia to obtain a "normal looking" genitalia, evidenced by the fact that labiaplasty is now the fastest growing cosmetic procedure in the world.
How is Kunyaza Taught in Africa?
In African countries such as Rwanda and Uganda,
kunyaza
is generally taught by female sex educators or sexologists, known as "
ssenga
" (aunt) to young girls and women. Some women will then inform their male partners about how to perform
kunyaza
, prior and during sexual encounters.
Rwandan men generally learn about
kunyaza
through older male relatives or their wife prior to sexual encounters. A man's ability to execute
kunyaza
effectively and make a woman squirt is seen as a test of their manliness, according to Rwandan culture.
"It's what makes a man a man,"
explains
Simba Kakongi Ali
, a local sex herbalist and
kunyaza
guru.
Kakongi Ali continues,
"When you are doing the kunyaza you brush the penis over the vagina, mostly on the clitoris. She will feel it nicely and she will start releasing water. That's what they call kunyaza. It is what women enjoy most. I also enjoy it when I'm doing it because when I am with a woman who is dry, I feel pain… It's the sound that comes out of the kunyaza style is what makes me and other men happy…. When you see that water coming out you feel that you've done it, you feel that you are also a [real] man."
The Kunyaza Technique
The
kunyaza
technique involves a combination of non-penetrative (rubbing and tapping) and penetrative (deep thrusting) stimulation of the external and internal female genitalia with the penis to enhance female pleasure and achieve orgasm accompanied with ejaculation.
During
kunyaza
, the man rhythmically and continuously strikes the glans of the clitoris and vulva with his erect penis, which he holds between his index and middle finger moving in the same motion from top to bottom, left to right and in circular movements.
The practice consists of a combination of teasing and massaging the female genitalia, with the aid of lubrication if required to heighten a woman's arousal.
In Which Positions is Kunyaza Practised?
Kunyaza
is traditionally performed in many different sex positions. These positions can be grouped to the following five;
1. Sitting position
2. Lying position
3. Position from behind
4. Standing position
5. Position during pregnancy
During
kunyaza
intercourse
,
in the lying position, a woman should slightly lift her buttocks and slowly twist her hips in a circular motion in order to enhance pleasure and encourage the man to penetrate deeper.
Whilst on all fours in the position from behind position, a woman is advised to lift her buttocks upwards whilst shaking it to increase arousal and deeper penetration.
Ssenga, Female Sex Educators in Africa
Ssenga
(aunt) is the name for the female sex educators and sexologists teaching the
kunyaza
and
kachabali
technique to women. Some
ssengas
have become very popular in recent times due to social media and documentaries uncovering the vital role they play in teaching traditional African sexual techniques.
Ssenga
and sexologist in Kigali, Rwanda,
Vestine Dusabe
, travels across the country teaching sex education to men and women. Dusabe also visits schools to inform young females about the importance of preserving their chastity and their right to sexual pleasure when they get married. She also hosts a radio show tackling relationship counseling and sex education.
Dusabe also criticises men who aren't able to satisfy their wives because they are not skilled at performing
kunyaza.
She explains,
"It's a real problem when a man doesn't do kunyaza to his wife…When a man doesn't make love to his wife properly, he will say she is dry, even if she has plenty of water."
Popular Kenyan
ssenga
, sex and relationship therapist, from Kenya,
G
etrude Mungai
has popularised some of the traditional African sex techniques and positions in a practice known as
Mombasa Raha
. Mungai provides sex courses for women in small private classes how to entice their husbands for sex as well as ensuring their desires are met.
Active female participation is crucial to fully enjoy this ancient sexual practice. Experienced k
unyaza
practitioners, such as Mungai, encourage women not to simply lay down and let the man do all the work. She reminds her female students, many of whom aren't married, not to deny the importance of having a healthy sexual relationships after they get married, "The majority of married women downplay sex, they get married and they settle."
In one of her classes, Mungai
advises
women on the importance of shaking their hips and buttocks during intercourse:
"There is a very thin line between being a nice woman [in bed] and being a boring woman in bed...As a hot woman in bed, you don't pump, men pump, we shake [our hips]."
Mungai continues,
"The best vagina is a combination of tightness with good elasticity, warmth and lubrication...If you have the three, you have the best vagina in town!"
Another Kenyan
ssenga
, by the name of
Betty Katana Longo
, teaches women in her village, the secrets of the female orgasm, by using the
kachabali
technique to ensure a healthy sex life. Some of the tips Longo advises women are; the importance of shaking the buttocks during sexual activity, making noises, and psychological preparation before engaging in any sexual encounter.
Londo says,
"Every woman wants to know about sex. Whenever she has a problem, we end up talking about sex."
According to Londo, stimulation of the clitoris is essential as well as a woman having a large labia to reach the ultimate climax. She also advises women to perform labia elongation:
"Please ladies take my word. Start to pull [your labia] now. Because it's the only thing which can make you happy in your marriage. It can help you get an orgasm."
Triggering the Female Orgasm with Kunyaza
Kunyaza
can also be performed in conjunction with the female practice of
gukana
(labia elongation).
Gukana
is a tradition of labia elongation, achieved by daily stretching of the inner labia, with the goal of creating more contact and friction between the labia and the penis. According to
kunyaza
practitioners, the more contact between the labia's erectile tissue and the penis, the greater the pleasure women will experience during sexual encounters.
When done properly,
kunyaza
is a highly effective technique, whereby a woman can achieve an orgasm within 3 to 5 minutes, according to
kunyaza
expert Dr Bizimana.
Kunyaza
also enables women to have multiple orgasm by the constant stimulation of the clitoris, which is called
rugongo
in Rwanda and Burundi.
Kunyaza in the Western World
Kunyaza
has been the subject of a number of independent documentaries such as;
Sunny Side of Sex: Uganda
(2012) by Dutch filmmaker
Sunny Bergman
,
Kunyaza - Afrikanische Liebeskunst
(2011) by German erotic film director Pierre Roshan, and
Sacred Water
(2016) by British-trained filmmaker, Olivier Jourdain.
German-based sex researcher of Rwandan descent, Dr Nsekuye Bizimana, authored two books in French and German which has increased the awareness of the sexual practice in parts of Europe and the Americas.
Le Secret de l'amour à l'Africaine
(2008) and
Kunyaza: Multiple Orgasmen und weibliche Ejakulation mit afrikanischer Liebeskunst
(2009).
A summary of Bizimana findings can be found in an English article written for sexual health professionals called,
Another way for lovemaking in Africa: Kunyaza, a traditional sexual technique for triggering female orgasm at heterosexual encounters
(2010)
.
Bizimana is convinced that
kunyaza
can hold the key to female pleasure and is passionate about spreading this sexual technique outside of Africa. He says,
"I simply want women to climax when they make love."
Western Sceptics of Kunyaza
Many Western sexologists are highly sceptical of
kunyaza's
ability to trigger female ejaculation and multiple orgasms in women. Female sexuality is still shrouded in mystery in the West. Whilst the subject of female ejaculation is contested among women and sexologists, alike.
In contrast to the Rwandan tradition, in the West, G-spot stimulation — the area inside the vagina approximately one to two inches inside on the anterior wall — rather than external clitoral stimulation, is interpreted as the most effective way to achieve female ejaculation.
However according to
Dr. Hernando Chaves
, a California-based sexologist, it is possible that genetic factors, race and culture play a role in female ejaculation cross-culturally.
"I would be curious if women from various cultures had different pelvic floor muscle strength,"
he says, referring to the muscle largely associated with squirting.
"In addition, how would the role of sexual comfort, acceptance of female sexual pleasure and cultural acceptance of squirting affect the prevalence of female ejaculation in different cultures and races?"
Rwandan sexologist Vestine Dusabe believes that it is imperative to preserves
kunyaza
as it is an effective Rwandan tradition and is crucial to maintaining a healthy sexual relationship. She criticises Westerners' scepticism of the ability of
kunyaza
to trigger female ejaculation and informs her fellow Africans to not pay attention to the criticism from the West,
"White people do not believe in it because they don't know it, They have never tried to let that water spring."
More information about
kunyaza
will be in our upcoming book
Kunyaza
, due to be released later in 2017
---