Articles about Love, Sex, Relationships and Intimacy in Islam
Faith and Reason: Experiencing the joy of Islam: Our series on attitudes towards sex is continued this week by a Muslim writer, Abdul Hakim Murad, the chairman of the Guilliam Press, a publishing house. Click
here
'Sharia compliant' sex shop to open in Mecca selling halal sex products for Muslims, Click
here
A sex shop in Mecca? What's the big deal?Islam has never been a prudish religion by Sabbiyah Pervez. Click
here
Online Muslim sex shop launched in the Netherlands. Click
here
Turkish delight: What makes a sex shop halal? Click
here
Sex and Islam do mix, but not in America by Wajahat Ali. Click
here
As scholars question the place of nudity in marriage, Islamic clerics are hotly debating exactly what sexual practices are acceptable, writes Brian Whitaker Click
here
Sex and the Citadel by Shereen El Feki – book review. Click
here
Malaysia bans Obedient Wives Club sex manual. Click
here
This call for Muslim sex goddesses is a setback for Malaysia by Nazry Bahrawi. Click
here
Interviews with Shereen El-Feki, Mona Eltahawy, Irshad Manji and Elif and Shafak. Click
here
What's important for good sex, according to women. Click
here
Why women need to ahout about sexual pleasure. Click
here
'How To Make Me Come': Blog Features Women's Sex Tips On The Female Orgasm. Click
here
Intimacy Matters on MuslimMatters.org : Everything You Ever Wanted to Know About Intimacy for Muslim Couples. Click
here
Going Down Town - The Truth About Oral Sex In Islam by Bilal Stroud and Mutaqqi Ismail. Click
here
Sh Abdal-Hakim Murad on 'The Perfumed Garden' by al-Nafzawi and the history of Islamic erotology. Click
here
Muslim Women Like Having Sex, and Halal Lube Is a Thing That Exists. Click
here
Better Sex - With Help From The Qur'an. Click
here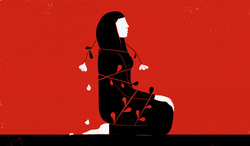 Sex Talk for Muslim Women by Mona Eltahawy 5 May 2016 for
New York Times
CAIRO — After I gave a reading in Britain last year, a woman stood in line as I signed books. When it was her turn, the woman, who said she was from a British Muslim family of Arab origin, knelt down to speak so that we were at eye level.
"I, too, am fed up with waiting to have sex," she said, referring to the experience I had related in the reading. "I'm 32 and there's no one I want to marry. How do I get over the fear that God will hate me if I have sex before marriage?"
I hear this a lot. My email inbox is jammed with messages from women who, like me, are of Middle Eastern and Muslim descent. They write to vent about how to "get rid of this burden of virginity," or to ask about hymen reconstruction surgery if they're planning to marry someone who doesn't know their sexual history, or just to share their thoughts about sex.
Countless articles have been written on the sexual frustration of men in the Middle East — from the jihadi supposedly drawn to armed militancy by the promise of virgins in the afterlife to
ordinary Arab men unable to afford marriage
. Far fewer stories have given voice to the sexual frustration of women in the region or to an honest account of women's sexual experiences, either within or outside marriage.
I am not a cleric, and I am not here to argue over what religion says about sex. I am an Egyptian, Muslim woman who waited until she was 29 to have sex and has been making up for lost time. My upbringing and faith taught me that I should abstain until I married. I obeyed this until I could not find anyone I wanted to marry and grew impatient. I have come to regret that it took my younger self so long to rebel and experience something that gives me so much pleasure.
We barely acknowledge the sexual straitjacket we force upon women. When it comes to women, especially Muslim women in the Middle East, the story seems to begin and end with the debate about the veil. Always the veil. As if we don't exist unless it's to express a position on the veil.
So where are the stories on women's sexual frustrations and experiences? I spent much of last year on a book tour that took me to 12 countries. Everywhere I went — from Europe and North America to India, Nigeria and Pakistan — women, including Muslim women, readily shared with me their stories of guilt, shame, denial and desire. They shared because I shared.
Many cultures and religions prescribe the abstinence that was indoctrinated in me. When I was teaching at the University of Oklahoma in 2010, one of my students told the class that she had signed a
purity pledge
with her father, vowing to wait until she married before she had sex. It was a useful reminder that a cult of virginity is specific neither to Egypt, my birthplace, nor to Islam, my religion. Remembering my struggles with abstinence and being alone with that, I determined to talk honestly about the sexual frustration of my 20s, how I overcame the initial guilt of disobedience, and how I made my way through that guilt to a positive attitude toward sex.
It has not been easy for my parents to hear their daughter talk so frankly about sex, but it has opened up a world of other women's experiences. In many non-Western countries, speaking about such things is scorned as "white" or "Western" behavior. But when sex is surrounded by silence and taboo, it is the most vulnerable who are hurt, especially girls and sexual minorities.
In New York, a Christian Egyptian-American woman told me how hard it was for her to come out to her family. In Washington, a young Egyptian woman told the audience that her family didn't know she was a lesbian. In Jaipur, a young Indian talked about the challenge of being gender nonconforming; and in Lahore, I met a young woman who shared what it was like to be queer in Pakistan.
My notebooks are full of stories like these. I tell friends I could write the manual on how to lose your virginity.
Many of the women who share them with me, I realize, enjoy some privilege, be it education or an independent income. It is striking that such privilege does not always translate into sexual freedom, nor protect women if they transgress cultural norms.
But the issue of sex affects all women, not just those with money or a college degree. Sometimes, I hear the argument that women in the Middle East have enough to worry about simply struggling with literacy and employment. To which my response is: So because someone is poor or can't read, she shouldn't have consent and agency, the right to enjoy sex and her own body?
The answer to that question is already out there, in places like the blog
Adventures From the Bedroom of African Women
, founded by the Ghana-based writer
Nana Darkoa Sekyiamah
, and the Mumbai-based
Agents of Ishq,
a
digital project
on sex education and sexual life. These initiatives prove that sex-positive attitudes are not the province only of so-called white feminism. As the writer Mitali Saran put it, in an anthology of Indian women's writing: "
I am not ashamed of being a sexual being
."
My revolution has been to develop from a 29-year-old virgin to the 49-year-old woman who now declares, on any platform I get: It is I who own my body. Not the state, the mosque, the street or my family. And it is my right to have sex whenever, and with whomever, I choose.
Click
here
to read article from source
---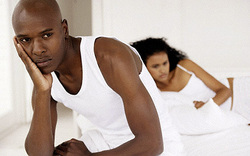 Reasons Why Women Withhold Sex

Sarah Stefanson
One of the benefits of being in a long-term relationship is that you have someone that you can readily depend on for regular sex. For guys especially, this is a very important part of a commitment to another person. However, it is precisely when you start to expect sex from your girlfriend that she starts using that presumption against you. Some women make a habit of withholding sex from their partners, while some only do it under very specific circumstances. To men, this seems like cruel and unusual punishment. Of course, there is a difference between a woman simply not wanting to have sex and purposefully withholding it. When a woman withholds sex, she's trying to send a message. Here are some of the reasons she might cut you off and what you can do about it.
She's Pissed Off

This is probably the most common reason that women withhold sex. If you've done something that made her furious, she may not be above punishing you by keeping the one thing you really, really want out of your reach. The last thing a woman wants to do when she's feeling any kind of negative emotion, whether it's mad, sad, frustrated, annoyed, stressed, or worn out, is get busy between the sheets. While many guys can turn off the unpleasant feelings and get down to business, a woman finds it more difficult to push those emotions aside and get aroused. You might be satisfied with angry, violent sex, but she wants to work out her angst before she jumps into bed.
The solution to this is to find out why she's upset and try to fix it. Sometimes simply acknowledging that you've done something wrong is enough to make her calm down. Other times, the only way to get out of the doghouse is to participate in one of those long, heartfelt conversations in which you share feelings.
She's Asserting Herself

If she's keeping the good loving from you, it may be an attempt to assert her power over you and the relationship. If there's one area of a relationship women think they have control over, it's sex. She may just be doing it to show you who's boss in bed or she may be compensating for feeling powerless in some other aspect of her life. Maybe she has a cruel boss, a domineering best friend or an overprotective mother.
If you suspect that she's withholding sex to assert herself, the easiest way to get the carnal door open again is to compliment her sexual abilities and prowess. This may seem counterintuitive, but if you acknowledge how much you appreciate her in bed she may realise that trying to prove her status is unnecessary.
She's Manipulating You

Another reason women withhold sex is to get something out of you. When no other methods of getting what she wants are working, she might resort to revoking your sex privileges until you agree to what she's after. This will usually be a pretty big thing. Generally, she's not going to bother holding out on you in order to get you to take out the garbage.
The easiest way to get around this is to give her what she wants. If that's not a possibility, you'll have to appeal to her sense of reason. If that doesn't work, try giving her something similar to what she wants. If you can't make that happen, you might have to wait it out and
service yourself
until she comes to her senses.
She's
B
ored

She could be avoiding sex with you because she's not enjoying it. Some women are embarrassed by the idea of talking about sex with their partners, especially if there is a problem. So instead of telling you what's wrong, she might just shut up shop.
To get around her sex ban in this case, try suggesting something new sexually. Take her to a sex shop and buy something fun for both of you. Buy a book with suggestions on how to spice things up. If you show some interest and put some effort into making some changes, she may open up again.
She's Tired

Maybe she's not putting out because she's just too knackered. Perhaps you want to do it more often than she does, and she just can't keep up. Other life demands might be stressing her out and keeping her busy too, making her too worn out to enjoy sex as often as you'd like.
To get her back into the idea, pamper her with some relaxing treats beforehand. Make her a bubble bath or give her a massage. If she's relaxed, she's more likely to feel
sexy
. Or, you could be truly unselfish and devote your time entirely to her pleasure for one night, making her more likely to want to return the favour another time. Also, you might consider cutting back a bit on the frequency. Instead of going to her every time you're aroused, take matters into your own hands every now and again.
She's Cheating
It is a possibility that she's kicking you out of bed because she's more interested in having sex with some other man. If this is the case you have bigger problems than lack of sex in your relationship. If you suspect that she is
cheating on you
(and you should have more reasons than just a
decline in your sex routine
), confront her with your suspicions calmly and listen to her explanation. If you find out she is cheating, you'll have to decide if you want to work on things or move on.
Playing Games

Women withhold sex because men let them get away with it. It's pretty clear it's the one thing that most guys can't live without and that they'll do pretty much anything to keep it coming on a regular basis. If you and your girlfriend can openly communicate, you should be able to talk through these issues as they come up instead of getting to the point where she's closing her legs while you're begging for it.
Source:
AskMen
---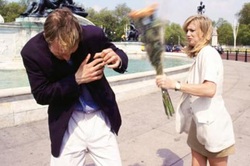 Top 10: Cruel Things Women Do To Men

Emily Miller
Women can be cruel, and they often do cruel things to men. Despite their reputation as the fairer sex, when it comes to relationships, sometimes women can be downright nasty. It seems like a reverse sexism started to take hold as the feminist movement came about and equality for women began gaining ground.
Some women use their girl-power solidarity to come to a consensus on what's socially acceptable for women to do to men in a relationship. They've agreed among themselves that these behaviours are perfectly justifiable regardless of how they play with a man's emotions or ego.
With that, we've compiled a top 10 list of cruel things women do to men.
10. They don't pick up the phone
You convinced her to give you
her number
and you're feeling good about yourself. Your charm and good looks have obviously made an impression on her. Unfortunately, when you try to call, she doesn't pick up or, worse yet, she's given you a fake number. Some women will give you their numbers because it's easier than trying to tell you why she's not interested. What's more, in the age of caller ID, it's easy for her to avoid your calls. At least the women who give you a made-up number are being more obvious about the fact that they have no intention of talking to you again.
9. Use men for free drinks
Some women go out never planning to spend any of their own money on
drinks at the bar
or club. Instead, they count on their feminine wiles to convince guys to shell out for their libations. Some of these women will take the opportunity of a guy buying a drink for her to begin to get to know him, but others (the cruel variety) will take that drink, flirt a little and move on to the next sucker with money to burn.
8. Use men as placeholders
Maybe you've been in a relationship for a while and you notice that her eye is starting to wander. She's starting more fights with you or not bothering to fight at all anymore. Her friends get quiet when you walk into a room. She's avoiding your phone calls. Her things are disappearing from your place. The AM article
Breakup Warning Signs
talked about all these hints that she's thinking about putting an end to your relationship and, well, they're cruel things.
If she is a decent person, she'll just get it over with and dump you already, but if she's cruel, she'll hold on to you for a while until somebody new comes along. These girls don't like to be alone and without a relationship, so instead of putting you out of your misery and ending it, she'll string you along until she meets someone to replace you. If she's really cruel, she'll start things up with him before she's finalised the breakup with you.
7. Emotionally manipulate men
Men don't like to see women cry and some cruel women will take advantage of this fact and use it to get what they want. In general, women are much more emotional than men and it's easy for some women to use a man's complete incomprehension of female feelings to get something out of him. A few well-placed tears or a temper tantrum and most men will do anything to get it to stop.
6. Use physical violence
Men are usually raised with the idea that hitting girls is a major no-no. Unfortunately, there are some cruel women who use this aspect of a man's personality to gain power over him. In the minds of some women, it's perfectly acceptable to slap a boyfriend across the face when he says something to piss her off. Knowing that he would never hit her back, this type of woman feels like she can inflict any kind physical pain on him without fear of repercussion. A man is also less likely to tell someone about suffering physical violence at the hands of his girlfriend if he believes he'll be thought of as weak or pathetic.
5. Criticise their men in public
A growing trend in television shows and commercials is that of depicting men as bumbling idiots, while their wives and girlfriends are intelligent, in control and flawless. This may contribute to the real life practice of cruel women who criticise and humiliate their men in public places. Women can get away with this in ways that men would never be allowed to. When a woman pokes fun at her man or even soundly debases him, the group surrounding them is more likely to laugh than to be appalled.
4. They don't disclose their relationship status
You've pulled out all your best moves and you seem to be making progress with the cute girl you've just met. When you finally get to the point when you feel you can safely ask for her number, she smiles and says: "I have a boyfriend." That information would have been nice to have
at the beginning of the conversation,
love. It's certainly not the worst thing a woman could do to a man, but it is annoying when she lets you assume that she's available so that she can enjoy your flirtation and flattery.
3. They withhold sex
This is a time-tested, and frequently used, cruel thing for women to do to men. For most men, sex is as important as breathing, so withholding it in order to get something she wants or simply to punish her man for his transgressions is a pretty low thing to do, even if it is effective.
2. They test their men
You're all ready to go for a night out with your friends, when your girlfriend calls and asks you to change your plans to be with her instead. She doesn't have any particular reason; she just wants to see you. She knows that you had plans to meet up with the guys, but if you really loved her, you'd come over to her place instead. If her request comes with an "if you really loved me," then it's a test. If you choose anything other than immediately rushing to her side, you're going to fail. This kind of testing in a relationship is indeed cruel and petty.
1. They flirt to inspire jealousy
Maybe she's feeling underappreciated, maybe you've just had a big fight or maybe she just enjoys the tortured look on your face. For whatever reason, girls who flirt obviously with other guys in front of their boyfriends are immature and manipulative.
Source:
AskMen
---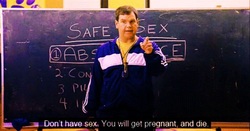 Why (Muslim) Sex Ed Can't Wait Until Marriage by Zoha Qamar
If there's one thing that my Islamic Sunday School and middle school sex ed had in common, it's that they split classes by gender.
The overlap just about ends there.
While the former looped through CDs to attune our ears to the correct pronunciation of the Arabic alphabet as we labeled maps that sketched out historical borders of the Middle East, the latter greeted us with live birth delivery room videos as we labeled eight and half by eleven inch naked silhouettes for a crash course on reproductive organs.
The juncture at which religion meets anything remotely associated with "modern" — from objectively advanced technology to subjectively new attitudes (usually anything relating to feminism, sex, and womanhood) — more closely resembles a murky, muddy swamp than any sort of intersectionality between two perpendicular roads.
As a fundamental underpinning to guide a way of life as opposed to just "a religion," Islam is a lens that guides how we view the world; it plays a pronounced, active, and relevant role in our relationship with the world around us.
And inside of us. Like inside of our bodies.
Teenagers know where babies come from; breaking news, they understand it's not just
directly
"from Allah."
Just last year, Dr. Sobia Ali Faisal from the University of Windsor published her
findings
of a research study to explore the relationship between North America's Muslim youth and sex, much of which included their stance and access to sexual education.
Of her 403 participants, including of men and women ranging from 17-25 all over the States and Canada, two-thirds of those who had sex did so before marriage. Her results saw an almost equal breakdown of this response between genders.
Half of those who hadn't had sex before marriage acknowledged that "they considered it."
While these figures lurk in contrast to the lectured cultural norms professed in our communities, they are accompanied by a far more dangerous set of statistics with a pretty basic bottom line: even if you don't talk to your kids about sex, someone else will.
The young Muslims surveyed ranked their "parents" as the least likely source for sexual education, with "media" being the most. "Friends" fell somewhere in between.
Frankly, perhaps such a ladder also mirrors a similar one for the rest of teens in the 21st century, but such a qualitative question was paired with a reporting that 76.2% of the youth received their sex ed from school, while only 4.2% did from their mosque.
Overall, the Muslim youth suffered from negative sexual self-judgment folds more than their non-Muslim counterparts.
As such, it's not just one arbitrary institution of "Sunday School" to be blamed; this issue originates from a deeply rooted religious rhetoric substantiated by cultural convention.
Ali Faisal's sample size was composed of the following ethnic breakdown, at least from those who chose to disclose such information: 43.4% South Asian, 25.1% Arab, 7.4% European, 6% Black, and 5.6% multiple ethnicities. Sixty five percent of the participants were born in either the US or Canada, while 23% had moved here by age 12. In other words, almost 90% of the group spent the entirety of their teen years here, thus embodying a fair breakdown of both components that constitute the hyphen "Muslim-American"/"Muslim-Canadian."
The driving motivation for Ali Faisal's research was the negative sexual self-judgment that then anchors as the basis for unhealthy sexual relationships, particularly concerning major issues, such as consent and abuse.
Putting aside personal view, Quranic interpretations, and individual choices regarding premarital sex, whether you agree with it or not, it's completely beyond necessary to foster more dialogue about sex ed, and provide our Muslim youth with quality sexual education.
Cultural taboos cannot trump the risks that come with leaving kids in the dark.
Whether or not sexual activity should be withheld for after marriage is up for debate, but sexual education should be non-negotiable; it simply cannot wait, and must not.
Such logic practically manifests into expecting a young man and woman to know basically nothing the day before marriage, but expecting them, the day after, to be an expert ready to pop out children at the nine month mark. (In other words, here also lies the myth that sex is just the dirty verb for "baby factory.")
The underlying norms of mainstream society and lingering baggage of traditional culture overlap on telling territory; in this case, a dangerous one that much more readily objectifies, blames, and shames women.
In the context of healthy relationships, these attitudes are not casual points of misunderstanding; they are critical points of mistake.
These then catapult into the dangerous mindsets surrounding consent, abuse, and expectations.
This 0-100 switch may well be the reason there is rarely acceptance of the very real notion of rape within marriage, or the indisputable right to personal agency for women in relationships.
Some organizations are trying to fill the dearth of resources currently lying at this intersection of sex ed and religious taboo. HEART Women & Girls, an organization currently working out of Chicago, Ill. and Canada, states on its website that it "promotes sexual health and sexual violence awareness in faith-based communities by developing culturally-sensitive health education, advocacy, research and training," — specifically targeting Muslim communities.
A past history of its recent events include workshops such as "Sex Education for Muslim Youth: Understanding its Challenges & Opportunities" and "Creating Safe Spaces: Empowering the Muslim Woman's Reproductive Health Experience."
While groups like HEART are striving to make an impact via resources and workshops for Muslim youth, dismantling further ingrained mindsets regarding the role of boys and men in such scenarios remains an obligatory step to consider.
Sex after all requires two people, making both individuals equally in need of education and equally accountable in responsibility, as well as equally entitled to pleasure, comfort, and consent.
It's easy to get lost in the debate about premarital sex versus waiting; a war with fast flying Quranic verses and hadiths, shielding traditions met with arguments about medical advancements, social practices, or historical patriarchal control (especially with delicate topics such as in times of war, i.e. sex slaves).
What simply must not be treated as complicated, though, is the actual education that promotes safe activity and healthy relationships, no matter when they occur. After all, these topics also envelope interactions beyond just the sexual. Abuse and gender-based misconduct can precipitate emotionally and psychologically, too.
As the writer Zahira Kelly included in a tweet earlier this month, it's abuse, even if #MaybeHeDoesn'tHitYou.
Either these dialogues about healthy sex and relationships can proliferate, or the silence can succumb to the influences of often harmful, even toxic, sources that sow the seeds for catastrophic disasters. From a one-time assault to a decades-old abusive marriage, these vulgar attacks can seriously stick and haunt for life.
Sexual education isn't just about a condom or a pill.
It isn't inherently about telling teenagers to run wild or commanding them to be sexually active when they're not ready, or telling them to wait. It is, however, about equipping people (even more mature folks, if they weren't given the chance to learn when younger) to make decisions—whether those decisions are to have sex or not to have sex, or whether those decisions are to allow them to recognize an abusive relationship when they see one.
I fully believe that cultural awareness and sensitivity are paramount pillars to any cause. Balancing advancement toward the uncertain but seemingly developed, with respect for the traditional but seemingly antiquated, might appear impossible because it is honestly difficult.
But refusing to attempt any sort of reconciliation at all is frankly the worst, weakest, and least wise consensus.
Whether or not we like it, whether or not we're fighting it, there is no talk of Islam without talk of gender. As such, sexual education simply cannot be omitted from the discussion. Perhaps one day Islamic Sunday School and middle school sex ed will share a little more common curriculum, even if not exactly the same maps or diagrams.
Perhaps one day both will concern themselves with matters of health, wellbeing, safety, and respect-these aren't taboo topics.
In the end, the most critical term remains "choice." The sexual agency of a person must be left up to an individual, but no one should make any sort of decision unaware. It's our right to be educated, and it's our right to be sexually educated.
Source:
Muslimgirl
---