"This is my faith as well as my ancestors and the profession of my father before me – the faith of the lovers and the religion of the beloved." – Jalal al-Din al-Ṣuyuti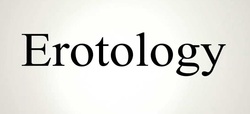 Erotology

Erotology is defined as the study and description of sexual love and lovemaking. Etymologically, it is derived from the Ancient Greek word 'eros,' meaning passionate love, and the suffix 'ology' meaning a 'subject of study' or 'a branch of knowledge.'

Developed in ninth century Arabia, the erotological discipline of the art of coition ('ilm al-bāh) is a precursor to the modern western sexual science of sexology. 'Ilm al-bāh is a multidisciplinary literary genre dedicated to the study and description of sexual love, intermingling various religious, philosophical and medical concepts.

---
"The man who does not appreciate the measure of his blessing cannot be grateful for it and if he cannot be grateful, he shall not enjoy increase!" - Al-Jahiz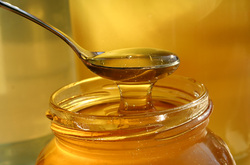 'Ilm al-Bah (The Art of Coition)

Developed in ninth century Arabia, the erotological discipline of the art of coition ('ilm al-bāh) is a precursor to the modern western sexual science of sexology. 'Ilm al-bāh is a multidisciplinary literary genre dedicated to the study and description of sexual love, intermingling various religious, philosophical and medical concepts.

Coition, also known as coitus, means sexual intercourse.
---
"May Allah grant glory and eternal salvation to those who know how to stroke a soft cheek in an accomplished manner, to give a just accolade to a slender waist, and to probe into the sweetest vagina with a befitting skill." - Jalal ad-din as-Suyuti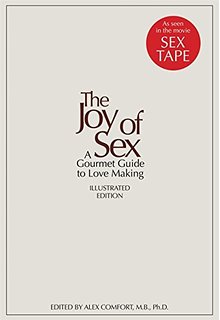 Sex Manuals
Sex manuals, also known as love manuals and sex guides, are books which explain how to perform sexual practices; they also commonly feature advice on birth control, and sometimes on safe sex and sexual relationships.
Early Sex Manuals
In the Graeco-Roman era, a sex manual was written byPhilaenis of Samos, possibly a hetaira (courtesan) of the Hellenistic period (3rd–1st century BC). Preserved by a series of fragmentary papyruses which attest its popularity, it served as a source of inspiration for Ovid's
Ars Amatoria
, written around 3 BC, which is partially a sex manual, and partially a burlesque on the art of love. The
Kama Sutra
of Vatsyayana, believed to have been written in the 1st to 6th centuries, has a notorious reputation as a sex manual, although only a small part of its text is devoted to sex.
The Ten Best Sex Guides according to The Guardian Newspaper. Click
here
Islamic sex guide says wives meet only 10% of husbands' desires.
Click
here
---
"If the wives need our help, we can train them on sexually satisfying positions. It is important to be a good sexual worker so that the husbands do not go to prostitutes." - Rohaya Mohamad, Obedient Wives Club's vice-president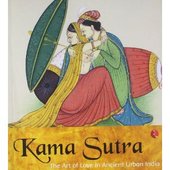 Kama Sutra

The Kama Sutra is an ancient Indian Hindu text widely considered to be the standard work on human sexual behaviour in Sanskrit literature written by Vātsyāyana. A portion of the work consists of practical advice on sexual intercourse. It is largely in prose, with many inserted anustubh poetry verses. "Kāma" which is one of the fourgoals of Hindu life, means desire including sexual desire the latter being the subject of the textbook, and "sūtra" literally means a thread or line that holds things together, and more metaphorically refers to an aphorism (or line, rule, formula), or a collection of such aphorisms in the form of a manual. Contrary to popular perception, especially in the western world, Kama sutra is not exclusively a sex manual; it presents itself as a guide to a virtuous and gracious living that discusses the nature of love, family life and other aspects pertaining to pleasure oriented faculties of human life. Kama Sutra, in parts of the world, is presumed or depicted as a synonym for creative sexual positions; in reality, only 20% of Kama Sutra is about sexual positions. The majority of the book is about the philosophy and theory of love, what triggers desire, what sustains it, how and when it is good or bad.

The Kama Sutra is the oldest and most notable of a group of texts known generically as Kama Shastra (Sanskrit: Kāma Śāstra).

Historians attribute Kamasutra to be composed between 400 BCE and 200 CE. The Kama Sutra is a compendium that was collected into its present form in the 2nd century CE

His work was based on earlier Kamashastras or Rules of Love going back to at least the seventh century BCE, and is a compendium of the social norms and love-customs of patriarchal Northern India around the time he lived. Vatsyayana's Kama Sutra is valuable today for his psychological insights into the interactions and scenarios of love, and for his structured approach to the many diverse situations he describes. He defines different types of men and women, matching what he terms "equal" unions, and gives detailed descriptions of many love-postures.

The Kama Sutra was written for the wealthy male city-dweller. It is not, and was never intended to be, a lover's guide for the masses, nor is it a "Tantric love-manual". About three hundred years after the Kama Sutra became popular, some of the love-making positions described in it were reinterpreted in a Tantric way. Since Tantra is an all-encompassing sensual science, love-making positions are relevant to spiritual practice.


---
"It is high time that we begin to provide qualified individuals in the Muslim community who can discuss sex – and especially female sexuality – from a more nuanced and accurate perspective." - Zaynab bint Younus (freelance writer)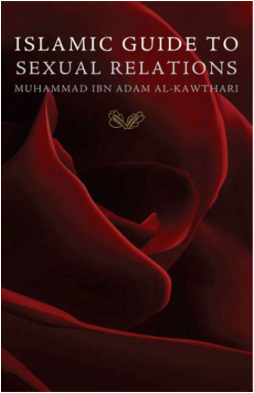 Islamic Sex Guides
The Perfumed Garden
by Muhammad ibn Muhammad ibn al-Nafzawi
is a fifteenth-century Arabic sex manual and work of erotic literature.
The Perfumed Garden
presents opinions on what qualities men and women should have to be attractive, gives advice on sexual technique, warnings about sexual health, and recipes to remedy sexual maladies. It gives lists of names for the penis and vagina, has a section on the interpretation of dreams, and briefly describes sex among animals. Interspersed with these there are a number of stories which are intended to give context and amusement.
Islamic Guide To Sexual Relations
by Mufti Muhammad Ibn Adam al-Kawthari
Islamic Guide to Sexual Relations
is a contemporary sex guide for Muslims written by a traditionally-trained British-Asian scholar. The book is a serious endeavour to tackle these sensitive matters in a clear and concise manner. While being respectful and dignified in the language he employs, the author does not shy away from discussing sensitive issues. He records, in thorough detail, the guidance Islam provides regarding sexual encounters with one spouse
A Taste of Honey: Sexuality and Erotology in Islam
by Habeeb Akande
Described as 'The Islamic Kama Sutra,'
A Taste of Honey
is a guide of sexual love and lovemaking from an Islamic perspective. Click
here
for details.
---
"the thinkers of Islam extolled the sexual instinct as one of God's most delicious gifts to His creatures. Suyuti was only one of many orthodox jurists and imams who wrote sex manuals." - Abdul Hakim Murad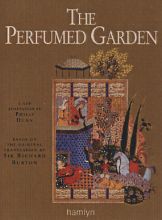 British Muslim scholar, Shaykh Abdal-Hakim Murad on 'The Perfumed Garden' by al-Nafzawi

I (Shaykh Faraz Rabbani) asked Shaykh Abdal-Hakim Murad about this text and here is his response:
Muhammad al-Nafzawi was an obscure counsellor to the Hafsid ruler Abu Faris, who lived in the early part of the 9th Hijra century. The work, al-Rawd al-Atir fi nuzhat al-khatir, has never figured conspicuously in Arabic erotic and aphrodisial literature, and has been popularised in the Arab world in recent years largely through acquaintance with a French translation made in Algiers in 1876, frequently reprinted, and influential on several 20th century bohemian figures such as Anais Nin. Like a fair number of Arabic works of its genre it contains descriptions of freak practices, including sodomy, and hence should not be used by Muslims, even in those parts that appear to be heterosexual and halal. The author's pious phrases argue against, rather than for, his seriousness as a guide for Muslims.
The origins of Islamic erotic literature probably lie in early Abbasid Baghdad, where a fusion took place in educated circles between ancient Arab poetic traditions of amatory verse which described female beauty and the act of love with considerable frankness, and the translation of Indian texts. No Arabic version of the Kama-Sutra is known, but al-Hakim al-Azraq's Alfiyya, which supposedly contained instructions on a thousand different sexual positions, was probably influenced by an Indian text known in Arabic as the Kitab al-Bah.
The genre is, when maintained within the fiqh boundaries, a legitimate branch of the Islamic sciences, rooted in hadiths such as Hadith 25 in Nawawi's 40: 'and in the sexual act of each of you there is a sadaqa.' This is because, on the most elementary level, it preserves the self and the spouse from adultery; but also because for many Sufis the gendering of humanity and the natural world reflects in some way the divine qualities of Beauty and Rigour, which oppose but complement each other, and come together in love. This has been explored, albeit in ways that could be strongly criticised, at www.penkatali.org
There are several works on the subject by Imam al-Suyuti, but apparently the most influential such text by an alim was the Ruju' al-shaykh ila sibah fi'l-quwwa ala al-bah, by the great Shaykh al-Islam Kemal Pasha-zade, the leading scholar of the Ottoman state in the time of Selim I.
There is certainly a case for producing an advanced manual in English drawing on Islam's rich legacy in this field. Perhaps somewhere on the Al-Zawiya list there is someone with the necessary expertise.
Source:
Islamqa.org
---
"The (erotology) genre is, when maintained within the fiqh boundaries, a legitimate branch of the Islamic sciences, rooted in hadiths such as Hadith 25 in Nawawi's 40: 'and in the sexual act of each of you there is a sadaqa.' This is because, on the most elementary level, it preserves the self and the spouse from adultery." - Abdul Hakim Murad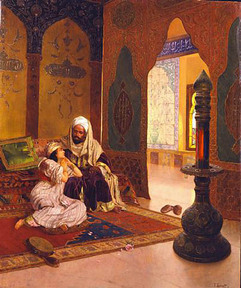 Faith and Reason: Experiencing the joy of Islam by Abdal Hakim Murad
'MAY Allah grant glory and eternal salvation to those who know how to stroke a soft cheek in an accomplished manner, to give a just accolade to a slender waist, and to probe into the sweetest farj with a befitting skill.'
This prayer by the Egyptian theologian Jalal Suyuti brings to mind one of the largest issues which divide the mindsets of medieval Islam and Christendom. While St Augustine was convinced that 'man is by nature ashamed of lust', and the monks of Mount Athos begged to be made eunuchs for the Kingdom of Heaven's sake, the thinkers of Islam extolled the sexual instinct as one of God's most delicious gifts to His creatures. Suyuti was only one of many orthodox jurists and imams who wrote sex manuals, some of which, translated by furtive Victorians, expound to modern connoisseurs of private- case literature an impressive although sometimes far-fetched versatility.
Here we are far from the Christian universe. Aquinas and Chrysostom did not write pillow books. The view which prevailed in the pre-Islamic Middle East was that 'virginity is the foundation of the Church', and that marriage is at best a regrettable concession to human nature.
Such an outlook found itself without a future in the new context of Islam. When it came to the flesh, the Arabian Prophet had left the faithful in no doubt: 'My way is the way of marriage.' And with a very unpatristic candour, he taught his Companions that 'In the sexual act of each of you there is a charity. If someone acts on their sexual desire lawfully, God will reward them.' To the great gratitude of later generations, he bequeathed guidance on the importance of foreplay and mutual consideration during sex, stressing particularly that a husband should not 'lie with a woman and satisfy his need from her before she has satisfied her need from him'.
All this aroused a historic storm of protest and anxiety in the Western religious mind. The medieval Christian writers routinely flayed Islam for its affirmation of 'fleshly delights' and its shocking belief that there could be sex in Paradise. In our present decades of sexual 'revolution' this polemic has become less noisy, but even today liberal Catholics such as Hans Kung have felt able to adduce the Prophet's 'sensuous lifestyle' as evidence against the authenticity of his mission.
The Koran excludes the Pauline vision of man as radically 'fallen', and hence in need of a Saviour. Adam and Eve may have sinned, but the repercussions were muted when, as the Book puts it, God in His mercy 'relented towards them'. Man's tendency to wrongdoing is not to be viewed as the result of a sexual temptation connected to the lost 'prologue in Heaven'. Instead, each believer must seek God's compassion directly, through the life of prayer and sincere good works.
But there is more to Islam's position than a simple toleration of a faculty that gives pleasure. In Muslim eyes, there exists a theology of the sexual gift which expresses much that we need to know about man's relation with woman, and the relationship of both with God.
The Koranic world-view is 'dyadic', that is, it sees the universe as a creative interplay of opposites. Up and down, light and dark, right and left, hot and cold, wet and dry: all these manifest what has been the underlying principle of the cosmos since its differentiation at the Creation: 'Of all things have We created a pair.' The male and female represent nothing more - or less - than another of these primordial bifurcations of reality.
Just as the beauty and sustainability of nature flow from this miracle of opposition and relation which God has arranged, so too is human society made whole and cohesive through the mystery of gender. Love, in this vision, can be called the reconciling and fecundating force of all existence. And in the way that the environment is destabilised when the natural oppositions are interfered with, so too does our society grow unbalanced when the polar energies of male and female are disturbed. As Robert Bly has argued, a society which deprives men of their identity as soldiers, priests and fathers, or which belittles the nurturing genius of women, will lose its most fundamental coherence, and find itself beset by armies of street-fighters and single mothers.
There is something tragi-comic about the modern public obsession with sex. Having shaken off the old repressive and guilt-laden ethos, popular culture cannot imagine any form of sexual liberation other than promiscuity. But the public performances served up by television, adult magazines, and popular fiction are deficient and tasteless, castrated by a fundamental ignorance of what sexuality means. The sexual revolution is more than a reaction against a repressive past. More seriously, it is an attempt to discover, in increasingly frustrated extravagances, the joy of sex. Outside a spiritual context, a full attainment of this is simply not within reach. In a moment of insight, Boswell's Life of Johnson opines that 'for a man whom religious education has secured from licentious indulgence, the passion of love, when once it has seized him, is exceedingly strong.'
But while the divine gift of the libido is not to be suppressed, it does need protection. Our modern mass-culture likes to be jaded by a constant partial nudity, which provides a leakage and hence a debilitation of sexual energy. More damagingly still, a Cartesian legacy of mind-body dualism bedevils the young into thinking that something done to the body will have no significant impact on the soul. But the intensity of sex can only nourish the spirit, rather than wound it, if it takes place within the protected space known as marriage, which, with its invocation of divine blessing, nurtures the meaning and efficacy of sex as the essential link between flesh and spirit.
The Koran says: 'And it is of God's signs that He created for you spouses from among yourselves, that you may find peace in them; and He has placed between you love and mercy.' From the creative union of opposites, tranquillity ensues - the Koranic sakina being no other than the shechina of the Old Testament: the serene and imminent presence of God.
Could there be a more appropriate reward for celebrating human nature?
Abdal Hakim Murad (Timothy J. Winter) was educated at Cambridge, Al-Azhar and London universities. He is currently the Shaykh Zayed Lecturer of Islamic Studies in the Faculty of Divinity at Cambridge University and Director of Studies in Theology at Wolfson College. He has published and contributed to numerous academic works on Islam, including as Director of the Sunna Project, and is a leading figure in inter-faith activity, notably as one of the signatories to the Common Word statement. He is also the Dean of the Cambridge Muslim College and is well-known as a contributor to BBC Radio 4's 'Thought for the Day'.
Click
here
to see the source of the article on the Independent website
---
"There is certainly a case for producing an advanced manual in English drawing on Islam's rich legacy in this field [of erotology]." - Abdul Hakim Murad
Female Sexuality
A more accurate understanding of female sexuality must be collectively pursued in order to see significant positive change in Muslim marriages.
Meredith Chivers is one of the few women studying human sexuality. Traditionally a male-dominated field, a lot of the research tends to focus on male subjects instead of women, she said. "I think that developing a critical mass of women in the field has changed what we know about female sexuality. Chivers said from the
'
Arousing questions about female sexuality' article Click
here
to read the full article.
---
"A more nuanced and accurate understanding of female sexuality must be collectively pursued in order to see significant positive change in Muslim marriages." - Zaynab bint Younus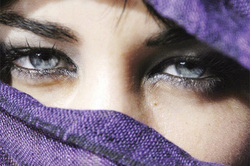 Refutation of Falsehood: Busting Myths About Female Sexuality
by Zainab bint Younus Source:
SalafiFeminist
When one sees Muslim leaders attempt to take on serious and relevant issues to the Muslim Ummah such as sexually dysfunctional marital relationships, one truly hopes for the best. Alas, well-meaning though they may be, there becomes glaringly obvious a lack of knowledge and understanding regarding female sexuality.
A few claims that are being made and circulated en masse (and dangerously so) are the following:
· Muslim women (especially from 'conservative, practicing families') do not really experience sexual arousal or any feelings of intense sexuality before marriage.
· Women's fitrah is such that they are automatically less sexual than men.
· Muslim women are intimidated and scared by even discussions about sex prior to marriage; if a Muslim man wants to discuss it with his fiancée, he shouldn't lest she run in the opposite direction.
· Women don't 'need' to orgasm as much as men do; their sexual feelings are minimal and what they truly seek from sexual encounters is not necessary physical pleasure, but emotional connection.
Not only are all these claims inaccurate, but to perpetuate them on a massive public forum – and by an individual with significant influence over large numbers of Muslims – is extremely dangerous due to the fact that the Muslim community already suffers from a horrific lack of knowledge and awareness about sex and female sexuality.
Despite the fact that Islamic texts fully recognize women's sexual needs and in fact protects them as a religious right, many male Muslim leaders perpetuate cultural stereotypes about the nature of female sexuality and falsely pass them off as Islamic guidance. Such ridiculous ideas include the belief that women have a lesser need and appreciation for the physical aspect of intimacy; that they do not experience intense sexual arousal prior to marriage; and that the very idea of sex is disturbing and unnatural to them, or that they are unable to comprehend the true nature of intercourse before marriage.
In all fairness, even Western cultures and scientific thought has long held faulty and inaccurate beliefs regarding female sexuality (most famously, the views of Sigmund Freud and the Victorian phenomenon of 'hysteria'). However, it is also true that Western society has moved along with considerable speed with regards to knowledge of female sexuality than many Eastern (and Muslim) cultures have. It must still be kept in mind, though, that the amount of studies and research collected on female sexuality is dwarfed by those about men, and that there remains a great deal to be discovered about female sexuality in general.
[1]
Going back to the claims being publicly taught, there is first of all a severely erroneous conflation between the reality of culturally ingrained attitudes about sex, and the actual innate physical desires and needs that women have for sex.
While it is absolutely true that many Muslim cultures teach women unhealthy negative attitudes about sex and equate female sexual desire with being dirty or impure, this in no way actually reflects the physiological need for sex that exists in the female gender as a whole.
No matter how much cultural brainwashing women receive regarding their sexuality, most women will still inevitably experience feelings of sexual arousal at some point in their lives – and for those who do, it will generally first happen
before
marriage.
Furthermore, the arousal a woman feels can and does reach strong levels of intensity, including orgasm; for example, in a wet dream. This was acknowledged even by RasulAllah (sallAllahu 'alayhi wa sallam), who confirmed Umm Sulaym's question regarding female wet dreams.
[2]
Even outside of wet dreams and masturbation however, women can and do feel intense sexual stimulation – anything from wearing a new pair of jeans or sitting on a massage chair. This is not to be crude, but simply realistic.
[3]
[4]
Nor are such experiences purely involuntary; many women are curious about their bodies and are actively aware of what stimulates them both physically and mentally (after all, the brain is the most powerful sex organ). Sexual curiosity exists in women just as it exists in men; since many girls mature physically and mentally faster than boys, they can be ahead of the game when it comes to being curious about sex.
Whether it's reading romance novels (and anyone who thinks that girls read romance novels just for the emotional fluff is fooling themselves) or magazines like Cosmopolitan, girls crave information about both the romantic and the explicitly sexual.
Communication about sexual issues is another matter, one tied much more strongly to the aforementioned cultural brainwashing about intimacy than the idea that women have an inherent and instinctive fear or aversion to sex. Advising Muslim men to 'just pray Istikhaarah, ya akhee' instead of respectfully discussing or asking questions related to sex with their fiancées is harmful and, quite frankly, insulting to both the man and the woman. We should not be perpetuating attitudes of embarrassment, shame, and stigma about sexual issues but rather, encouraging men and women to approach the topic with respect, dignity, and honesty. It may be uncomfortable at first or awkward, but then, all positive growth and change is by necessity.
It is necessary to say here that a great deal of work needs to be done in training Muslim men and women on
how
to discuss matters related to sex and marriage in a respectful, dignified, and mature manner.
There is one final issue – the idea that women are innately 'less sexual' than men. While there is no denying the biological differences between men and women, including sexually, there is a big difference between recognizing the difference, and claiming that women simply aren't
as
sexual.
[5]
More accurate would be to state that what men and women find sexually appealing and arousing, how they react to such stimuli, and the levels at which they respond to such urges differ greatly – but do not take away from the inherent sexuality of women.
It is also a fallacy to say that the sole or primary benefit or reason that women engage in sex is for an emotional connection; rather, while some women do enjoy sex more because of the emotional connection, it is not a necessary component of their actual satisfaction or orgasm. In fact, the vagina – specifically the clitoris – has thousands more nerve endings than the penis, which means that its orgasm can be correspondingly much, much more intense than the male orgasm, and contradicts the belief of those men who are convinced that women don't really 'feel it.'
[6]
[7]
(Not to mention that women are capable of different types of orgasm
[8]
[9]
[10]
[11]
[12]
and multiple orgasms.
[13]
)
It is worth noting that, once sexually aroused, women have a much stronger need to orgasm than men do. If they are stimulated and left unsatisfied, it causes extreme emotional upset (and significant physical discomfort). Should this become a recurring pattern, where husbands reach climax but make no effort to ensure their wives' satisfaction, women often end up angry and resistant to being sexually available.
Psychological Haleh Banani mentions as well that women who are emotionally unsatisfied in their marriages yet are sexually fulfilled have higher rates of remaining within that marriage than the other way around. If
that
doesn't underscore the point well enough, I don't know what will.
The claim that women have fewer or less intense desires, or a somehow less important need for orgasm, is in fact an unhealthy way of minimizing female sexuality and its priority in a relationship. This takes place both amongst Muslims and non-Muslims and is a sign of how misogyny permeates our attitudes such that we automatically do not consider women to be of equal footing even in bed (and God help any woman who shows any sign of initiating sexual interest or contact!).
While the argument may go on to rage over who is 'more' sexual (keeping in mind that new studies continue to emerge on the topic, with sometimes paradoxical results), there is no benefit to be gained from pushing the view that women are simply less sexual beings.
In fact, it does the opposite, by telling men that they do not have to consider their wives' sexual needs to be as important or necessary (the caveat that 'a woman's right to sexual satisfaction is guaranteed in Islam' does nothing to change the final message). It is also implying to women that they should give up hope of true sexual satisfaction because it's unrealistic and biologically unnecessary for them to experience it (but hey, all women
really
want are snuggles and warm fuzzy cuddles, right?).
It is high time that we begin to provide qualified individuals in the Muslim community who can discuss sex – and especially female sexuality – from a more nuanced and accurate perspective. Otherwise, Muslim leaders who take it upon themselves to talk about the subject are simply contributing to the already terrible state of Muslim intimacy, and the continued struggles of Muslim women seeking satisfaction and fulfillment in their own marriages.
What truly needs to be encouraged, emphasized, and taught is the importance of men and women alike to improve communication with their spouses about matters of intimacy. From there, it should become much easier for husbands and wives to become comfortable with their own and each others' bodies; and for husbands to understand the various factors affecting women that may be significantly responsible for obstacles to sexual fulfillment. Just as men have their own unique preferences, levels of libido, and so on, so too are the tastes and desires of women varied and vast.
To truly seek an improvement to the sex lives of married Muslims, the first step should not be to make sweeping generalizations of female sexuality that are based on androcentric perspectives. Rather, it must be recognized that championing outdated ideas causes a great deal of harm to both men and women. A more nuanced and accurate understanding of female sexuality must be collectively pursued in order to see significant positive change in Muslim marriages.
[1]
http://queensjournal.ca/story/2009-02-09/features/arousing-questions-about-female-sexuality/
[2]
Umm Salama (Allah be pleased with her) relates that Umm Sulaym (Allah be pleased with her) came to the Messenger of Allah (Allah bless him & give him peace) and said,
"O Messenger of Allah, Surely, Allah is not shy of the truth. Is it necessary for a woman to take a ritual bath after she has a wet dream?" The Messenger of Allah (Allah bless him & give him peace) replied: "Yes, if she notices a discharge." Umm Salama covered her face and asked, "O Messenger of Allah! Does a woman have a discharge?" He replied: "Yes, let your right hand be in dust [an Arabic expression said light-heartedly to someone whose statement you contradict], how does the son resemble his mother?"
(Sahih al-Bukhari 130)
[3]
http://www.soc.ucsb.edu/sexinfo/article/sexual-response-cycle
[4]
http://www.menshealth.com/sex-women/girl-boners
[5]
http://www.theatlantic.com/sexes/archive/2013/06/turns-out-women-have-really-really-strong-sex-drives-can-men-handle-it/276598/
[6]
http://www.valleyadvocate.com/2012/05/26/clit-chat-14-clitoral-factoids-to-know/
[7]
http://www.science20.com/science_amp_supermodels/would_female_orgasms_kill_men
[8]
http://www.independent.co.uk/news/science/women-do-experience-two-different-types-of-orgasm-study-reveals-9191884.html
[9]
http://blogs.discovermagazine.com/seriouslyscience/2014/03/12/really-two-kinds-female-orgasm-science-weighs/#.VPYF33zF84c
[10]
https://monicasbox.wordpress.com/2012/07/15/11-different-types-of-orgasms/
[11]
http://www.womenshealthmag.com/sex-and-relationships/types-of-female-orgasm
[12]
http://www.buzzfeed.com/alisoncaporimo/different-types-of-orgasms
[13]
http://www.everydayhealth.com/sexual-health/how-common-are-multiple-orgasms.aspx
---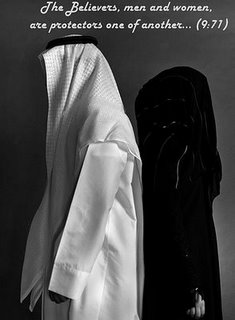 The Double Standards of Desire
by Zainab bint Younus (Source:
SalafiFeminist.blogspot.co.uk
)
"Brother, the fitnah! It's too difficult! If I don't get a second wife right now, I'm going to do the haraam!"
This statement is not only common to hear amongst Muslim men, but acceptable as well. Guess what, bros – polygyny isn't the solution to your all-important male arousal. And really, let's face it… you can't afford a second wife to begin with. So if your first wife won't compromise some of her basic Shar'i rights in order to cater to your libido, what are you going to do, hire a prostitute? Watch porn? Really? Are you that desperate for 'variety,' when at the end of the day – as RasulAllah (sallAllahu 'alayhi wa sallam) said – your wife has the exact same thing the other woman has?
Newsflash: Your physical desire isn't the center of the universe.
Now how about we stop for a moment and consider the flip side. Oh, I know what you're thinking – what flip side? Women can't possibly understand what men go through; women don't have anywhere near the levels of libido or triggers of desire… do women even have desire, really?
If you ever bothered to ask a woman, she'd tell you – hell yes. We know all too well what you're going through, because the fitnah we go through is just as bad. It is, perhaps, even worse when you consider the fact that so many Muslim leaders perpetuate the idea that women don't experience any sexual fitnah to begin with.
For every Muslim man who complains about the fitnah of other women, they don't realize that Muslim women are going through the exact same thing… if not worse.
Muslim women are groomed from young adulthood to believe that their role as wives is all-encompassing: to take care of a husband spiritually by waking him up for Fajr, to take care of him physically by cooking and cleaning for him, to take care of him by fulfilling his need for progeny by bearing his children, and to take care of him sexually by being always, constantly sexually attractive and available.
A woman who is not perfectly coiffed, waxed, and shaved is responsible for any illicit sexual desires that he may be troubled by; a man who develops a potbelly and showers a couple times of a week within the first few years of his marriage is considered perfectly normal and 'a good guy' as long as he remembers to take out the trash.
While Muslim men complain that their wives don't match up to the Hollywood actresses paraded before their eyes, they don't stop to think that they in turn don't match their wives' standards of attractiveness either.
Even before marriage, Muslim women can expect very little of their male cohorts; Muslim men, it seems, are not raised with the some of the basic grooming standards that many nonMuslim men (especially today with the hipster and lumberjack craze) have picked up on. Whether it has to do with a sense of dress, hygiene, or beard grooming habits (the only reason so many Muslim women appear to be repulsed by beards is because of how poorly Muslim men keep them), nonMuslim men these days far exceed Muslim men in the basic necessities of looking decent. Many Muslim men seem to think that they deserve praise for wearing clean socks and putting on deodorant.
NonMuslim men are also raised in an environment where – with all its other unpleasant realities acknowledged – they are expected to put in some effort in wooing a woman. From at least high school onwards, they're taught the basics: dress well, smell good, bring some flowers, and take the woman out somewhere nice. The woman is given the sense that she is wanted and that the man is willing to make an effort to be desirable to her in return. In short, there is a courtship ritual.
For all that people make snide comments that the only reason nonMuslim make any effort whatsoever in either grooming themselves or how they conduct themselves with women, is because they want to get laid – well, duh. That is precisely the point. NonMuslim men do all these things without a guarantee of having sex after all that work; Muslim men have a guarantee from their wedding night onwards that they will never, ever be turned down for sex (and if they are, then the angels are right there to curse those disobedient women)… and yet make little effort to maintain even a simple level of physical attraction.
Every Muslim woman has been through the cringe-worthy experience of listening to a pot-bellied imam lecturing them on how to be attractive to their husbands – and inevitably rebuking them for not doing enough to spare them from 'the fitnah.'
Now imagine, if you will, the following scenario instead:
"Shaykh, the fitnah is too much… my husband is no longer attractive to me, he is overweight and doesn't try to look good for me. If I can't be sexually satisfied soon, I'm going to do the haraam!"
I'm pretty sure we can all agree that the response would be a collective outburst of self-righteous rage: "AstaghfirAllah sister, how dare you say such a thing! Have modesty and do not allow Shaytan to whisper to you in such horrific ways!"
There is little to no acknowledgment whatsoever of the sexual fitnah Muslim women experience when faced by well-groomed, courteous nonMuslim men in contrast to the men they are either married to, or can look forward to marrying – the type who either make a (painfully) half-hearted attempt in university before abandoning themselves to early onset uncle-hood, or those who assume that being religious means never daring to emasculate themselves by grooming their beards.
Few, if any, will stop to mention that Ibn Abbas (radhiAllahu 'anhu) used to brush his teeth, comb his beard and hair, and
scent himself before going home. When asked why he did so, he retorted, "For my wife! I like to beautify myself for her just as I like her to beautify herself for me."
Rather, the idea that women need to be physically attracted to their spouses appears alien amongst many Muslims today. The idea that women need to find their husbands sexually alluring is almost bizarre. And it is precisely because of this refusal to acknowledge Muslim women's sexual needs within their marriages, that the dangerous door to sexual fitnah outside of their marriage exists.
Neither men nor women are immune to sexual fitnah – it is a desire that exists in all human beings, not solely within one gender. Women have eyes that see as much as men do; women have desires that exist just as men do, even if that desire is considered socially unacceptable to voice. Unlike men, women do not have the option of marrying more than one husband… so it could be said, perhaps, that there is more of an onus on men to please their wives and be physically attractive and sexually available to them than is commonly purported.
So please, for the sake of your womenfolk – Muslim men, please do more than take a shower.
---